WYP officer removed from frontline duties following 'knee on neck' incident
An officer from West Yorkshire Police had been removed from frontline operational duties after footage shared on social media showed him apparently kneeling on the neck of a teenager during an arrest.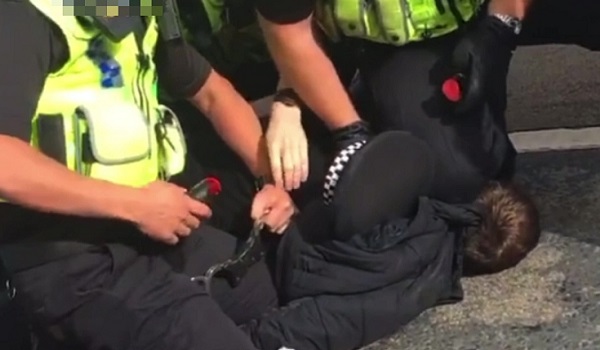 The 60-second video, which was filmed outside Leeds United's Elland Road stadium on Saturday (July 18) shows a number of officers struggling to arrest a fan on the ground as supporters gather round shouting at the police to release him.
It is the second time the technique has been filmed in the UK in the past ten days.
Concerns about such actions have been highlighted by the arrest and death of George Floyd in the US, who died while a police officer knelt on his neck for almost nine minutes as Mr Floyd shouted: "I can't breathe."
West Yorkshire Police Assistant Chief Constable Catherine Hankinson said a 17-year-old boy had been arrested for a public order offence and obstructing a police officer.
"We have reviewed the footage and looked into it as a matter of urgency to establish the full circumstances. We have reviewed body-worn footage, and the actions of the officers involved and a referral has been made to the Force's Professional Standards Directorate."
She added that the force had also referred the incident to the Independent Office for Police Conduct (IOPC).
Details of the incident emerged as Metropolitan Police Service (MPS) Commissioner Dame Cressida Dick criticised the use of the knee on neck restraint technique saying it was unsafe as it could lead to a person's airway being restricted.
Dame Cressida was speaking on LBC radio, answering questions from members of the public in relation to an incident in London on July 17 in which a video was published to social media that appeared to show an MPS police officer kneeling on a black man's neck.
"The techniques you saw are not taught in police training," she said. "We never use the chokehold or knee on neck techniques.
"The head is a very vulnerable part of the body, as are the neck and airways. Officers are always taught to protect people's heads and get anyone sitting up as soon as possible to prevent restriction of the airways."
One officer in the video has since been suspended and the other has been removed from operational duties. The incident has also been referred to the IOPC.
"Having viewed the material, my professional standards commander decided that it was appropriate for the IOPC to review the material and decide whether there is any misconduct," Dame Cressida said.
She added that body camera footage of the incident has not yet been released due to the ongoing investigation.
"This is one of the frustrations for me and my officers in the modern age, people will now more often than not be filming police officers and we now have body cameras on all frontline officers as well," said Dame Cressida.
"There is a lot of material out there that can show what happens in any one incident, and this is excellent, my officers do not shy away from the scrutiny. But it is inappropriate to release material when it is still under investigation."