Workforce absences at highest level in a year, but manageable
The number of police officers and staff absent from work has reached its highest level since January 2021, the National Police Chiefs' Council (NPCC) has revealed.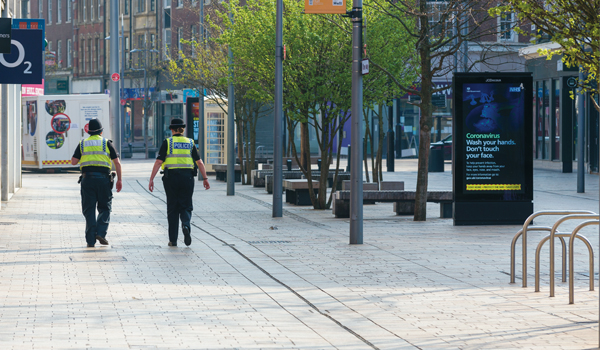 However, the figure of 9.4 per cent has been deemed to be well within manageable levels and is far below the absence rate of 16 per cent seen in March 2020 at the start of the pandemic.
Assistant Chief Constable Owen Weatherill, the NPCC lead for Operation Talla, the national police response to the Covid-19 pandemic, said: "We're constantly monitoring absence rates across policing, which are not currently impacting on our ability to provide a normal service to the public.
"We have plans in place to manage the impact of the Omicron variant, and best use of PPE has been vital in ensuring absence rates stay within manageable levels, protecting officers when they're out and about in public.
"On behalf of all forces, I'd like to acknowledge that work and thank all officers and staff for their firm resilience and for going above and beyond in 2021, as they do every day in keeping the public safe from those who seek to cause harm.
"Forces are well rehearsed at managing periods of high demand and competing priorities, continually providing a good service to the public even when facing significant challenges. An example is the largest deployment of Mutual Aid since the 2012 Olympic Games for the recent COP26 climate conference in Glasgow.
"Chiefs acknowledge that there is fatigue after nearly two years of the pandemic, and support is in place within forces to ensure officers and staff have access to the wellbeing resources they may need."
In a statement, the NPCC said: "Throughout the most part of 2020 and 2021, absence was stable between five to six per cent nationally. Points of increased absence worth noting were around the easing of restrictions in July 2021, where forces saw an increase to a rate of around 7.5 per cent nationally. This quickly reduced.
"Forces have adapted and made necessary changes to working patterns within their own force resources to ensure they can meet demand from the public.
"Workforce absence figures include all absence, not simply absence related to the Omicron Variant or Covid generally. Overall absence will include frontline and non-frontline roles, those in public-facing roles and not, those ill with other health circumstances, and those isolating and caring for others.
"A small proportion of those absences will still be able to work from home if not sick, with some adapting their role temporarily. They are counted within the absence rate as forces will have had to adapt their usual working patterns in some way to accommodate the temporary change in working arrangement for the affected individual.
"Policing has routinely prepared for scenarios which stress test our core service to the public, this is sensible resilience and civil contingencies planning and is managed both at a force level and by the National Police Coordination Centre.
"No requests have been received for mutual aid in relation to absence during the pandemic."