WMP officer found guilty of two assaults
A West Midlands police officer has been found guilty of assaulting two members of the public.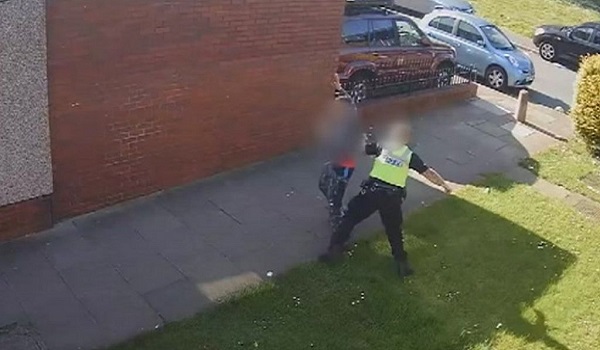 Police Constable Declan Jones, 30, had been accused of assaulting three people over a four-day period in April last year, while on duty in Birmingham. In verdicts returned at Birmingham Magistrates' Court today (August 2) he was found guilty of two counts of assault.
The court heard that PC Jones assaulted two members of the public on April 20 and 21, 2020, while attending to unrelated incidents.
In one incident, PC Jones stopped a male riding a bicycle to search him. However, the officer punched him several times in his torso and held him down onto the bonnet of the police patrol car. The following day he stopped a 15-year-old boy for a search. The officer punched him to the floor and kicked him in the ribs as he lay face down with his hands behind his head.
The incidents were captured on video camera footage played to the court. In each case, the assaults on the victims caused pain and injury.
PC Jones did not deny delivering the blows but claimed that he had acted lawfully in response to perceived danger, believing that each person may have had access to a concealed weapon. Following a search, neither of the victims was found to be carrying any weapon or, indeed, any prohibited item.
He was found not guilty of one of count of assault.
West Midlands Police Deputy Chief Constable Vanessa Jardine said: "DC Jones' use of force was totally inappropriate and it's right that he has been held accountable by the court today."
Derrick Campbell, Regional Director of the Independent Office for Police Conduct said: "PC Jones' aggressive actions fell a long way short of the standards expected of a police officer.
"His use of force in these situations was disproportionate and unnecessary. Not only has this had a significant impact upon his victims but we know any negative interaction like these can seriously undermine public confidence in the police.
"Our investigations have ensured he was held accountable for his actions and we thank the court for the careful consideration given to the evidence that was presented. The force will now arrange disciplinary proceedings and we await the outcome."
The actions of two other officers were also investigated during the investigations. One, who was a subject in two of the investigations, was found to have a case to answer for gross misconduct for a possible breach of police standards of professional behaviour regarding use of force and honesty and integrity. A misconduct hearing will be arranged by the force. The officer was also found to have a case to answer misconduct for duties and responsibilities. We felt this was best addressed through unsatisfactory performance procedures.
The other, who was a subject in the other investigation only, was found to have a case to answer for misconduct for breaching the standards relating to use of force; duties and responsibilities; and authority, respect and courtesy relating to their actions during a stop and search. We recommended reflective practice for the officer to address this.
Celia Thorpe of the Crown Prosecution Service said: "I do not underestimate the difficult, demanding and sometimes dangerous role of being a police officer patrolling our streets; however, in common with all members of society, police officers are accountable for their actions and are not above the law.
"Today's verdicts demonstrate that the CPS will endeavour to bring cases to court where unlawful force is used and where it is in the public interest to do so. I would like to thank and pay tribute to the bravery of the victims who came forward and gave their support to the very thorough investigations carried out by the IOPC, their attendance at court and giving evidence during the criminal trial."
PC Jones will be sentenced on September 10, 2021 at Birmingham Magistrates' Court.