WMP announces month-long crackdown on e-scooters
West Midlands Police has launched a month-long crackdown on illegal and dangerous e-scooter riders.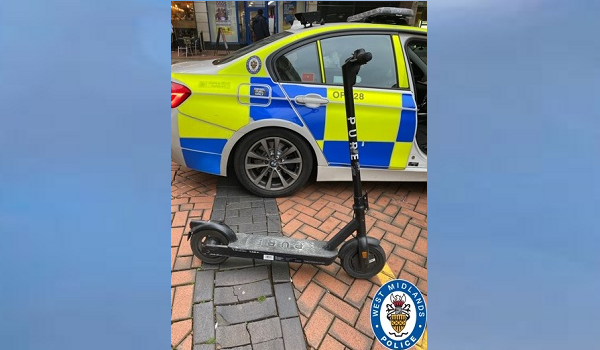 The action is being taken in response to an increasing number of complaints about the inappropriate use of the vehicles.
Those caught face having their private e-scooter seized or having their accounts to hire one suspended. Penalties can also include up to six penalty points on the offender's driving licence and a fine of up to £300.
E-scooters are legally available to purchase but it's currently against the law to ride a privately-owned one in any public place in the UK, whether on roads, pavements, parks, within town centres or canal towpaths.
VOI e-scooters, currently being trialled in Birmingham, Coventry and Sandwell, are legal but only to ride in places where people can ride bicycles, such as roads and cycle lanes. They cannot be ridden on pavements. E-scooter trials are also taking place in other parts of the country.
Since the start of the month, the force has seized ten scooters across the force area and have issued three warnings to riders of VOI scooters, which include emails to the company to request either a ban or a warning on their accounts.
Sergeant Jon Butler said: "We know there are concerns across our communities around the use of e-scooters. If they are used correctly – and in accordance with the rules – they can be a convenient and greener way of travel. The scheme being trialled in some of our region has ensured there is an alternative and more environmentally-friendly way to get around.
"However, e-scooters can be very dangerous if people break the law and use them in places they're not supposed to go, such as heavily pedestrianised areas. We don't want people to feel fearful while out and about and that is why we're taking action to target those who ignore the rules."
There have been long-running safety concerns about e-scooters.
In April, a three-year-old boy suffered serious injuries when he was hit from behind by an e-scooter while walking on a pavement with his grandmother in Feltham, West London.
YouTube star and TV presenter Emily Hartridge became the first person in the UK to be killed while riding an e-scooter when she was struck by a lorry in Battersea, South London, in July 2019.
Earlier this month an e-scooter rider has received a year-long ban after crashing into a van while almost twice the legal alcohol limit.
Przemyslaw Zakaszewski, 37, was riding his e-scooter in Cambridge on the evening of December 10 last year. At just before 9pm, he crashed into a silver Vauxhall Vivaro, which had stopped at a red light in Newmarket Road.
Officers on patrol came across the collision and found Zakaszewski lying on the ground with a fractured left leg. A roadside breath revealed he was almost double the legal alcohol limit.
Zakaszewski admitted while under caution that he was also uninsured before being taken to Addenbrooke's Hospital for treatment.
Zakaszewski admitted charges of drink-driving, driving with no insurance and driving without a licence. At Cambridge Magistrates' Court on June 3, he was fined £450 and disqualified from driving for one year .
Sergeant Mark Draper of Cambridgeshire Constabulary said: "This case highlights how the rules of the road still apply to e-scooter riders. It's sheer luck that Zakaszewski was not more seriously injured and he put not only himself but all those around him in danger when he chose to ride while under the influence."
Charity Guide Dogs has called for the sale of private high-speed e-scooters to be banned and expressed fear that their use means "more people with sight loss will be forced to change their route or avoid independent travel altogether".