Wikileaks founder's arrest warrant upheld as judge denounces 'absence of courage'
A judge has upheld the warrant for the arrest of Julian Assange for skipping bail, saying he should have the courage to face court and not feel he is "above the law".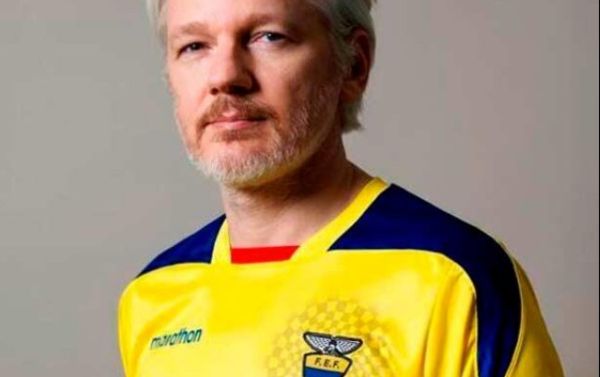 The Wikileaks founder's legal team again argued that the outstanding warrant – which dates back to 2012 – should be dismissed because it had "lost its purpose and function" after a Swedish investigation over sex-related allegations was dropped last year.
He has been living in the Ecuadorian embassy in London for five-and-a-half years, fearing extradition to the US for questioning over the activities of WikiLeaks.
But handing down her judgment at Westminster Magistrates' Court on Tuesday (February 13), Senior District Judge Emma Arbuthnot said she did not think Mr Assange's fears over being extradited from Sweden to the US are "reasonable".
She ruled: "I find arrest is a proportionate response even though Mr Assange has restricted his own freedom for a number of years.
"Defendants on bail up and down the country, and requested persons facing extradition, come to court to face the consequences of their own choices. He should have the courage to do the same.
"It is certainly not against the public interest to proceed."
Striking down all five points put forward by his lawyers, she said the UN Working Group on Arbitrary Detention's view was "quite wrong" regarding his conditions, adding: "There is a distinction between living in Wandsworth prison and in the Embassy.
"I do not consider 550 days on bail a deprivation, it was his own choice to live in the Embassy. He can leave whenever he wishes, has endless visitors, chooses his food, can sit on the balcony to have air, he is not locked in."
"Restrictions on his freedom are lawful and proportionate, and cannot be criticised," the judge added.
She added that Mr Assange's health problems "could have been a lot worse."
"[Mr Assange] feels like he is above the law. His failure to surrender has impacted the course of justice. He should have the courage to come to court," Judge Arbuthnot said.
While there is a process available for an appeal, it is currently unclear whether or not Mr Assange and his legal team will take that route.
But after the ruling, he tweeted: "Judge went well outside what the parties presented in court. This seems to have led to many factual errors in the judgment,"?before suggesting that he might appeal the decision.
Last month when lawyers asked the London court to consider dropping the arrest warrant, the Crown Prosecution Service (CPS) said there was is a "hypothetical chance" Mr Assange could soon walk free from his embassy incarceration.
Mr Assange, 46, has been inside the Ecuadorian building since 2012 after skipping bail to avoid extradition to Sweden over an allegation of rape, which he denies.
While the Swedish investigation is no longer being actively pursued, the Metropolitan Police Service says the Wikileaks founder will still be arrested if he leaves the embassy after the Foreign Office turned down a request to grant him diplomatic status.