Why BWV is a vital tool in 21st century policing
Video footage posted online by Sussex Police shows why body-worn video (BWV) cameras have become such an important tool in 21st century policing.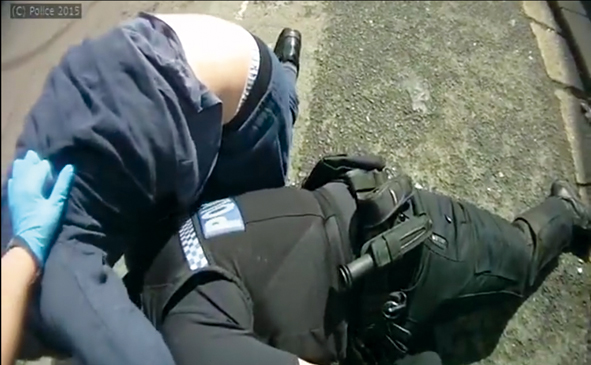 Video footage posted online by Sussex Police shows why body-worn video (BWV) cameras have become such an important tool in 21st century policing.
One example shows an officer being assaulted by an offender in Brighton in May last year (above); another shows an officer recording running through Brighton trying to trace a man allegedly smashing windows and carrying a knife, and a man in a flat with a knife (https://www.youtube.com/watch?v=zYSu2wIAKGA).
Superintendent Ed De La Rue from the force communications department said: "We have been using this technology for almost eight years now and have seen what it can do to support an investigation. It has now become an invaluable tool for our officers.
"They improve safety, which means there is a record of what happened in an incident between an officer and members of the public, protecting them both. The cameras are visible on the officers' uniforms, worn at shoulder height and have a forward-facing screen, which means members of the public can clearly see what is being recorded.
"The cameras are very visible and have acted as an effective deterrent against violence and aggression both towards other members of the public and also towards police officers."
Sussex Police has been rolling out BWV cameras to every response officer since the beginning of the year and there are now 1,019 in operation across the force.
The technology was first trialled in 2008 and Supt De La Rue said the cameras were being used to "protect both the public and officers".
He said the cameras had proved "particularly useful" in public order situations, for domestic violence and for recording 'first on the scene' evidence of property searches and incidents as they progress.
"Once individuals are aware there is a recording capturing their behaviour, they are likely to change the way they act. Also, if an individual knows they have been filmed they are more likely to plead at an earlier stage, potentially sparing victims and witnesses the ordeal of giving evidence and reducing time and costs spent in court," he added.
With most officers wearing them, the public will be told the cameras are filming.
"Officers will also capture their own behaviour during incidents, which means we can review and improve how incidents are dealt with and it protects both members of the public and our own officers," said Supt De La Rue.
Sussex police and crime commissioner Katy Bourne said the use of BWV cameras to "help protect communities and bring offenders to justice" was now widespread within policing.
"Officers are constantly telling me that they really value having these cameras out with them when they are patrolling the streets of Sussex," she said.
"The footage gathered acts as an independent witness to support prosecutions, particularly in cases of domestic abuse where victims may be reluctant to proceed. Also, any improper behaviour is recorded accurately and this will improve the time and the cost of an investigation.
"I fully support the further rollout of these innovative devices that are able to capture real-time evidence in an easy-to-use and accessible digital format. This is a great way to further empower officers to be more effective and efficient in our communities, to enable swifter justice and provide greater evidence to draw on."