West Yorkshire Federation chair calls for fresh vote on right to strike
The chair of the West Yorkshire Police Federation is calling for a fresh vote on whether the organisation should seek industrial rights – which would include the power to withdraw labour – following the Government's "appalling treatment" of officers over the past year.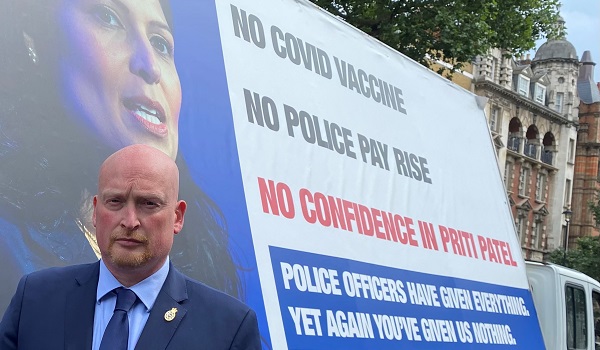 Brian Booth said: ""My hard-working colleagues in West Yorkshire witnessed many other workers who have industrial rights – such as NHS and firefighter colleagues – given pay awards. Police officers, who have no industrial rights, were given nothing.
"What makes this harder to understand for my members is that they have been front and centre in the fight against Covid, like those who have received a pay award. Police officers have given everything this past 18 months. The Government have given us nothing. No priority for the Covid-19 vaccine – despite the risks we have faced – and now no pay rise. My colleagues deserve better.  My personal opinion is that we now need to canvass our membership on whether they wish to seek full industrial rights."
Last month the Police Federation of England and Wales (PFEW) passed a vote of no confidence in Home Secretary Priti Patel and has withdrawn its support and engagement from the Police Remuneration Review Body, labelling the current police officer pay mechanism "not fit for purpose".
The PFEW has now called on the Government to dispense with policing platitudes and to agree to work with together on an entirely new and fairer system of remuneration decision-making and to reverse the zero per cent pay award decision and give our police officers a meaningful pay increase.
Mr Booth added: "It's utterly shameful behaviour from a Government that believes it is the party of law and order. Police officers have had ten years of below inflation pay awards – most of them being zero per cent or one per cent. There is no faith in the police pay mechanism, because this is decided on Government policy."
The police lost the right to take industrial action and join a trade union in 1919 after a series of police strikes.
In May 2013, in a ballot organised by PFEW, officers voted by 45,651 to 10,681 in favour of being allowed to take industrial action. However, as just under half of the Federation's then 133,000 members took part in the online vote, it was not enough under its rules to seek a mandate.
The strike ban was previously challenged in 2008 with similar results. On that occasion,  87 per cent of the 60,000 officers who took part endorsed a campaign.
Industrial action police officers can legally take includes a work-to-rule, which could severely hit the service, and they can also withdraw from voluntary posts, such as policing football matches.
Other professions have agreements over strike action but, unlike the police, are not banned by law. Prison officers were banned from taking such action in 1994 by the then Conservative government. But Labour repealed the ban and introduced a voluntary "no strike agreement" aimed at improving volatile industrial relations.
Nurses are legally entitled to strike but the Royal College of Nursing, which represents two thirds of all nurses, has a ruling that they should walk out only when it is not detrimental to the wellbeing or interests of patients.