West Midlands Police apologises for 'multiple failures' in deaths of Raneem Oudeh and Khaola Saleem
West Midlands Police has admitted it "should have done more" after an inquest into the deaths of Raneem Oudeh and her mother Khaola Saleem ruled they were unlawfully killed.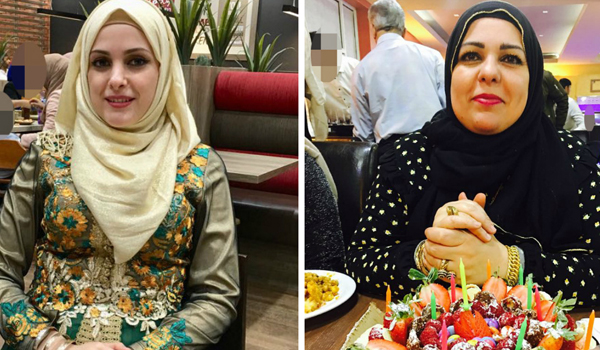 The pair were stabbed to death in Solihull in 2018 by Ms Oudeh's estranged husband Janbaz Tarin.
Tarin was jailed for life with a minimum term of 32 years.
A three-week inquest ended on Friday (November18 ) with the jury concluding that "multiple police failures" to investigate and safeguard had materially contributed to the deaths of Ms Oudeh and her mother.
The jury also concluded that officers who dealt with some of the incidents had insufficient training and understanding of force domestic abuse policies.
Ms Oudeh had made four calls to police after Tarin attacked her at a restaurant and followed the pair home.
West Midlands Police Assistant Chief Constable Andy Hill admitted "more could have been done" to protect Ms Oudeh from the "campaign of domestic abuse that she suffered in the months leading up to her death at the hands of the man who would go on to kill her and her mother".
An investigation by the Independent Office for Police Conduct (IOPC) found there were "missed opportunities" for West Midlands Police to take positive action for Ms Oudeh before she and her mother were murdered in Birmingham.
During the investigation, which completed in July 2020, the IOPC served nine officers with misconduct notices and found a case to answer for five at that level, all of whom received management action.
"Evidence we gathered indicated that appropriate intelligence checks were not made by some of the attending officers when completing domestic abuse risk assessments; a risk assessment was downgraded in one instance without the reviewing officer probing the rationale for the earlier decision; and criminal investigations into Mr Tarin were closed down without considering further lines of inquiry," said the IOPC.
"The other four officers were found to have no case to answer although it was agreed with the force that one of them should receive additional training."
In a statement issued on Friday, Mr Hill said: "The murders of Raneem Oudeh and her mother Khaola Saleem in 2018 are among the most shocking and appalling crimes in our region in recent years.
"On behalf of West Midlands Police, I would like to apologise to Raneem and Khaola's family – we should have done more. Their dignity throughout the inquest has been humbling.
"More could have been done to protect Raneem from the campaign of domestic abuse that she suffered in the months leading up to her death at the hands of the man who would go on to kill her and her mother.
"The events leading up to this awful tragedy have rightly been examined in detail in the inquest and by other organisations to ensure that lessons can be learned and to give the families the answers they deserve.
"It is clear that we should have done more to join up the incidents of abuse that were being reported to us so that the officers considering Raneem's case had a full picture of the ordeal that Raneem was enduring at the hands of Janbaz Tarin.
"The seriousness and pattern of abuse should have been better recognised, the risk posed by Mr Tarin should have been better assessed and the crimes that were being committed should have been better identified and investigated, with action taken against Mr Tarin.
"We should have done more to safeguard Raneem, by considering appropriate interventions such as a domestic violence protection order or a referral to the Sanctuary Scheme, which could have made her home a safer place."
Mr Hill added: "We are continually striving to improve our response to domestic abuse. A number of key changes have already been made since the murders of Raneem and Khaola, including increasing the number of staff specifically investigating domestic abuse offences and the creation of a new team to review investigations.
"A scrutiny panel has also been formed to review decisions and give their independent professional assessment. More training has been provided to frontline officers to help them better understand key concepts of domestic abuse. We recognise, however, that more needs to be done. We will continue to learn from the tragic events at the heart of this inquest.
"Of course, none of this will undo the devastation that the murders of Raneem and Khaola caused to their family.
"Above all, our thoughts are with them today and again I offer our apologies."
The IOPC had upheld a complaint from Ms Oudeh's family that West Midlands Police failed to exercise powers available to it to protect and/or assist her in the months before her murder.
It said evidence gathered showed that despite Tarin being suspected of two assaults on Ms Oudeh, he was not arrested or requested to attend a voluntary interview. The evidence also indicated that West Midlands Police could have provided further support and advice to her around the available options, including consideration of a Domestic Violence Protection Order (DVPO) or Domestic Violence Protection Notice (DVPN).
IOPC Regional Director Derrick Campbell, said: "The circumstances of this case are shocking and profoundly disturbing, and I would like to express my sympathy to the family of Raneem and Khaola for their loss.
"Our investigation found that satisfactory intelligence checks were not carried out when responding to incidents involving Raneem and her ex-partner. It was our view that West Midlands Police dealt with each incident in isolation and did not consider the cumulative effect and potential increase in the frequency and/or level of violence."
On the night they died, Ms Oudeh rang police four times fearing for her safety after reporting she and her mother had been assaulted by Tarin at a shisha bar.
Mr Campbell added: "It was apparent there were police resourcing issues and a lack of clear communication about their response over the next few hours before the fatal attack took place outside Raneem's mother's home.
"Our review of the full history of incidents and police involvement with Raneem shows that there were missed opportunities to take action and affect the risk prior to her death."
The IOPC made a number of learning recommendations to West Midlands Police concerning domestic abuse risk assessments being completed without intelligence checks; and misunderstanding by officers around when such risk assessments would be reviewed by their Public Protection Unit (PPU). It also recommended that the force should consider PPU oversight of all domestic abuse cases with repeat victims, and further training around the use of DVPOs and DVPNs.
The IOPC said West Midlands Police has outlined measures that had been taken or were ongoing to address these issues.
Harriet Wistrich, director of the Centre for Women's Justice, said: "The police failings in this case are absolutely terrifying. The evidence heard demonstrated a failure by police officers to understand the dynamics of domestic abuse and honour-based violence and a wholesale failure to implement any laws, policies of protective powers they have, which could have prevented these two deaths and the devastation caused to the wider family.
"West Midlands Police must be held accountable. The important findings and wide-reaching narrative verdict provided by the jury arises because this is an Article 2 ECHR inquest. If the government's Bill of Rights passes into law, the extent to which such state failings can be scrutinised, and police held to account will be in jeopardy."
Nour Norris, sister of Khaola Saleem and aunt of Ms Oudeh, said: "The inquest has revealed the full horror of police failings, but there is so much more yet to achieve; we need changes to prevent future deaths through domestic abuse. We need a cultural change at all levels of policing.
"We ask for no more failure, no more dismissal of victims of domestic abuse. The legacy of Raneem and Khaola must be to ensure that other victims get the respect, support, investigation and safeguarding that our loved ones did not get."