Wellbeing good practice celebrated through the Oscar Kilo Awards
Oscar Kilo, the National Police Wellbeing Service, has just announced the winners of its 2022 awards that "shine a light" on the efforts to support people involved in policing.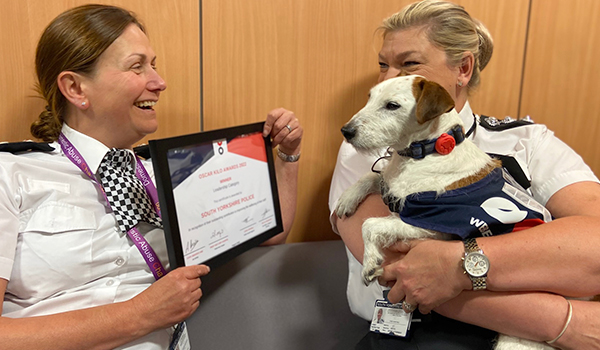 The Oscar Kilo Awards, now in their fourth year, have been created to recognise the "amazing work" that has been done, and continues to be done, to provide wellbeing support across UK policing.
Andy Rhodes, service director at Oscar Kilo, said: "I would like to say a massive thank you to the people who submitted entries this year; we've had a fantastic breadth of submissions, ranging from specialist projects through to preventative early intervention work. It's vital that we do these awards so we can share the great work that you're doing, you can learn from each other, and together we will continue to improve police wellbeing."
Andy Marsh, chief executive officer of the College of Policing said: "It's been wonderful to hear about all the brilliant things that are being done to support people involved in policing. There are the most amazing people involved in policing keeping our communities safe and protecting people from harm, we need to do everything we can to keep them fit and healthy both mentally and physically. These awards are an opportunity to shine a light on the work that is being done to achieve just that."
The awards reflect the seven areas of the Blue Light Wellbeing Framework: leadership; absence management; creating the environment; mental health; personal resilience; protecting the workforce; and occupational health.
Dr Ian Hesketh, senior responsible owner for the National Police Wellbeing Service, said: "I would like to say a massive well done to all our winners and to all the forces around the country who are working tirelessly to provide effective wellbeing support for everyone who works with them. It's fantastic to see so many police voices creating and providing sector-leading wellbeing services and using the standard set out in the blue light wellbeing framework to build on their wellbeing provision."
Professor Sir Carey Cooper from Manchester University, one of the award judges, added: "I feel very proud to have been involved with these awards and would like to congratulate all the winners for their hard work and dedication. Remember your wellbeing is linked both to your physical and mental health and these awards recognise the police services' commitment and determination to understand and to address the issues affecting its people."
Oscar Kilo said the quality of entries this year "has been excellent, and the wide range of projects has been inspiring".
The winners are:
Leadership: South Yorkshire Police – OK9 Wellbeing Dogs;
Mental health: Cheshire Constabulary – Specialist psychological wellbeing programme;
Absence management: Lincolnshire Police – Musculoskeletal injury research;
Occupational Health: Hertfordshire, Cambridgeshire and Bedfordshire police forces – Psychological Health Surveillance Programme
Creating the environment: Surrey Police and Sussex Police – Wellbeing collective;
Personal resilience: South Yorkshire Police – Mind over mountain; and
Protecting the workforce: Leicestershire Police – Menopause and peri-menopause project.
Full details of the winning projects and runners-up can be found on the Oscar Kilo website at https://www.oscarkilo.org.uk/news/oscar-kilo-award-winners-2022.
Linda Hindle, national engagement lead for police, fire and ambulance, said: "Working in policing we have a critical role to play in society and just like those working in other public and emergency services we often see and deal with the most difficult aspects of life, so looking after the wellbeing of our colleagues is an absolute priority.
"Everyone deserves to have the support and mechanisms in place for help should they need it. What is clear from these award entries is that we're lucky to have people in police forces across the country who are doing really great work to create a positive environment so people can draw meaning and purpose and feel supported in what is a challenging but hugely rewarding profession."
Nominations for the 2023 Oscar Kilo awards will open in the autumn.