Warnings over rising crime rates as Covid-19 restrictions end
The lifting of the majority of legally-enforceable Covid-19 restriction from today (July 19) is expected to lead to an increase in crime and anti-social behaviour, police leaders have warned.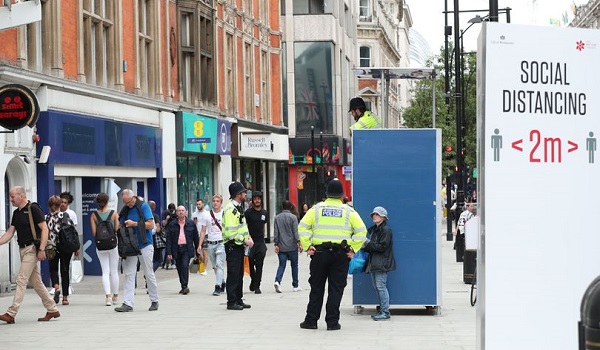 With rules limiting the number of people allowed to gather at indoor venues, mask wearing and social distancing no longer in place in England, the role of the police in enforcing standards of public behaviour is to be significantly reduced.
Officers can still be called in on cases where individuals fail to self-isolate if instructed to do so by their local authority or health officials, to assist in any cases where an individual has absconded from a managed quarantine facility.
Police also retain the power to stop events or detain persons to tackle localised outbreaks and to direct or remove a potentially infectious person to a place for screening and assessment, although this will be applied only in exceptional circumstances and on direction of a public health officer.
National Police Chiefs' Council chair Martin Hewitt said: "Today marks a significant day in our battle against Covid-19 and is a testament to everyone who has made sacrifices to help curb the spread of the virus.
"With the majority of restrictions being lifted, the police role is now limited. Where regulations remain in place, such as in international travel and self-isolation, police will continue to play their part using good sense and taking a proportionate approach.
"Restrictions in place during the past year and a half have reduced the opportunities for criminals to offend and we have seen falls in crime and violence. Sadly, as those restrictions ease, we do expect to see that trend reverse."
The Association Police and Crime Commissioners (APCC) is also warning of a sudden surge in anti-social behaviour due to the ending of lockdown restrictions.
Joint APCC local policing lead Alison Hernandez, the police and crime commissioner (PCC) for Devon and Cornwall and the Isles of Scilly, said: "Anti-social behaviour is one the biggest issues raised by communities with PCCs. It can blight lives and cause huge distress.
"As we unlock, people are of course keen to meet up again and enjoy the summer. But with good summer weather, more people holidaying in the UK this year, and as our bars and clubs fully re-open, there is a real risk of our communities seeing a sudden surge in anti-social behaviour.
"People should not suffer in silence. I would urge anyone who is suffering from anti-social behaviour in their community to report it to the local council, the police or other agencies."
According to figures published by the NPCC, throughout the pandemic, sustained falls in crime have been recorded throughout periods of national lockdown, with crime only rising close to 2019 levels during the summer months of 2020.
The third national lockdown introduced on January 6. 2021 saw a large reduction in recorded crime as individuals were told to stay at home, allowing criminals less opportunities to commit offences.
For the most recent recorded snapshot, for the four weeks to May 9, 2021, serious violent crime, including Grievous Bodily Harm, Actual Bodily Harm and personal robbery reduced by 20 per cent, shoplifting was down 30 per cent, vehicle crime fell by 31 per cent and residential burglary was down by 36 per cent compared to the same period in 2019.
In contrast, there was a 12 per cent rise in rape offences compared with the same four-week period two years previously, which continues the trend reported last month.
Recorded domestic abuse incidents was three per cent lower over the snapshot period compared to the same period in 2019.
The latest figures also showed a 17 per cent increase in assaults on emergency workers, thought to be driven by increases in common assaults on police officers, including suspects spitting on officers while claiming to be infected with Covid-19.