Volunteer rural crime spotters scheme launched in Thames Valley
Thames Valley Police has launched a new team of volunteer rural crime spotters in Chiltern and South Buckinghamshire.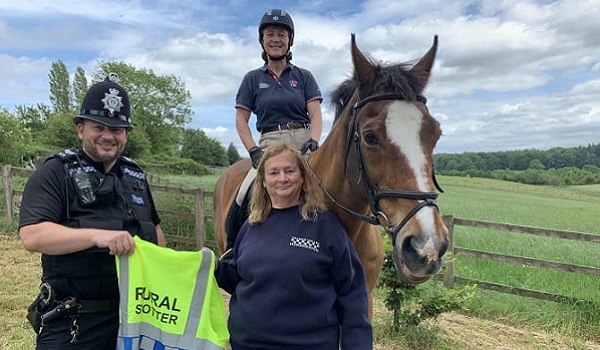 The volunteers are all horse riders who will engage with the rural community while out on their normal hacking route and assist in rural and equine crime prevention. The role is voluntary and has no police powers attached. It builds on the work of the Thames Valley Horse Watch network which brings local horse owners, riders and equestrian workers together with their local police team.
The volunteers will report any suspicious activity, including fly tipping, unauthorised off-road biking and hare coursing, to the rural crime reporting line which is run by the National Farmers Union in conjunction with Crimestoppers and allows offences and activity to be directed to the correct agency. When a crime is in progress, spotters will report this directly to the police.
The rural crime spotters initiative was the vision of Helen Evans, who is an Equine Liaison volunteer for Thames Valley Police. She said: "Within the equine community we have an untapped source of people who are able to act as the eyes and ears of the police in rural areas. Recognising this, and researching other schemes run by police forces across the country, I devised the rural spotters scheme.
"Riders have the unique ability to go to fairly inaccessible places and have the advantage of height to see over hedges. My hope is that the scheme will make the countryside a safer place for all."
Deputy Police and Crime Commissioner Matthew Barber said: "The support that volunteers give to the police is vital to keep our communities safe. We all have a responsibility to report crime and suspicious activity and it is great to recognise the work of these rural crime spotters in assisting the work of Thames Valley Police across the countryside."