Urgent review needed on drug-driving to end 'postcode lottery' of enforcement
A new report claims enforcement of drug-driving is "a postcode lottery", with some police forces convicting ten times more offenders than others.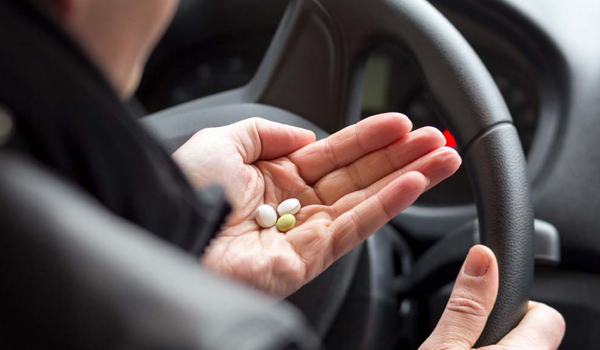 And the Parliamentary Advisory Council for Transport Safety (PACTS) believes that prosecutions could be just the "tip of the iceberg".
Its report urges the Government to review the way that drug-driving is tackled. While increasing numbers of drivers are being caught and prosecuted in some areas, in others drivers appear to be getting away with it, says PACTS.
A total of 12,391 people were convicted of a drug-driving offence in 2019, and PACTS says these numbers are rising fast.
Published this week, the report – Drug driving: the tip of the iceberg? –  shows that high costs and delays with blood testing mean that some police forces are rationing what should be a routine roadside procedure to a single test. Forces with better procedures, contracts and training are convicting ten times more drug-drivers than others, when controlling for population size. Some police forces now have as many convictions for drug-driving as drink-driving.
Figures show the highest number of convictions in 2019 were in the Metropolitan Police Service area (1,093), followed by Merseyside (991) and Essex (784). The lowest numbers were in the Warwickshire (56), Northamptonshire (61) and Bedfordshire (63) police force areas.
There were more convictions for drug-driving per 1,000 population in Merseyside (0.71) than in any other police force area. There were also more than 0.5 convictions (per 1,000) in North Wales, Dorset, Cleveland and Norfolk.
However, there were significantly fewer convictions per 1,000 population in the West Midlands (0.06). The Northumbria, Northamptonshire, Hertfordshire, Nottinghamshire, Leicestershire and Avon and Somerset force areas also had less than 0.1 conviction per 1,000 population.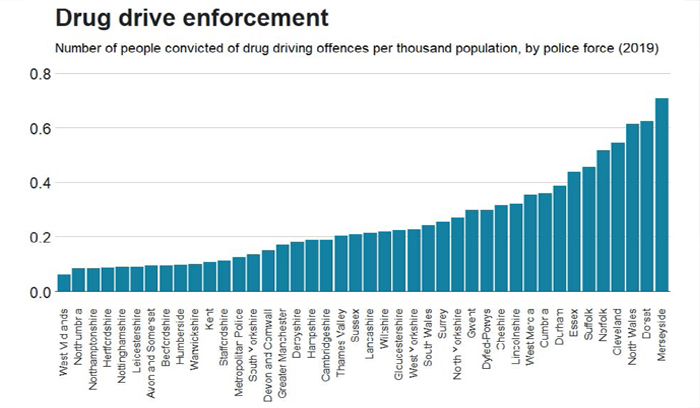 The report recommends that levels of drug-driving enforcement should be increased in the UK, particularly in those police force areas where levels are low.
It also wants the Home Office to review the blood testing process and seek ways to reduce costs and increase the efficiency of laboratory testing by increasing capacity, improved procurement, or other means. It should also consider the possibility of reclaiming costs from those who are found guilty.
David Davies, executive director of PACTS, said: "The police have made big strides in catching drug-drivers over the past five years. But it remains a postcode lottery.
"While some forces are testing hundreds of drivers, others are rationing patrols to a single test. These disparities cannot be explained by differences in drug-driving and the danger it creates.
"A more consistent approach is badly needed, with all forces testing for drug-driving where it is suspected."
Reoffending was also a major concern highlighted in the report, with 44 per cent of recorded offences being committed by reoffenders.
In one case, a driver with 18 previous drink and drug-driving offences was caught again for 'driving or attempting to drive with drug level above the specified limit'.
To address these issues, PACTS says a drug-drive rehabilitation course and high risk offender scheme should be introduced in the UK, modelled broadly on the existing drink-drive programmes, but with better screening for drug and mental health problems and with clear pathways to treatment.
The report also recommends introducing a new combined drink and drug-driving offence, with a lower drink-drive limit, that recognises the risk drivers who combine alcohol and drugs pose. Drivers who combine both are likely to be significantly more impaired than those who consume only one, however, at present they do not receive a longer sentence.
Drug-drivers were also much more likely to have a criminal history than the general public, the report found. An analysis in 2017 of those convicted of drug-driving found 67 per cent had one or more previous conviction. Typically, these offences were for theft/burglary or drug-related.
The report also urges the Department for Transport to produce and publish "robust offence and casualty data on drug-driving" using coroner data and other sources, as it does for drink-driving.
The authors says answers are still needed to many of the vital questions around the impact of drug-driving, including how many people are killed as a result and how many roadside drug-drive tests are undertaken. They believe the problem may be far greater than current systems show and may be growing.
They added: "Over the past five years, great strides have been made in legislation and enforcement of drug-driving, in line with the recommendations of the 2010 North Report [to strengthen drug-driving legislation]. However, this report shows that more action is now needed."
Mr Davies said: "This report by PACTS shows we still lack answers to vital questions on drug-driving. The number of offences and deaths detected so far may be only the tip of the iceberg.
"Driving under the influence of a combination of drink and drugs, even at relatively low levels, is particularly dangerous. This is not widely understood and there is no specific offence for drink and drug-driving. This needs to change."
He added: "There are significant problems with the speed and capacity of laboratories to process blood tests for drugs. This is hampering enforcement of driving offences and drivers are escaping prosecution. We need a Covid-style response to improving lab capacity."
PACTS wants the Department for Transport to work with the National Police Chiefs' Council, the Department for Health, the Home Office and the Ministry of Justice to undertake a joint review of policy on drug-driving.
Download the full report here: PACTS Drug Driving – The tip of an iceberg [3.0]