Uplift sees more than 9,000 officers recruited to forces
Police forces have hired almost 9,000 officers under the Government's drive to recruit 20,000 by 2023, according to official figures.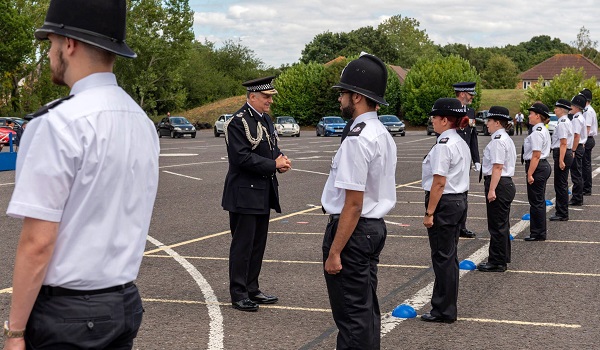 Home Office statistics released on Thursday (April 29) said an overall provisional headcount stood at 137,704 in England and Wales as of March 31, an increase of 9,270 officers
That includes 8,771 officers hired as part of the Government's pledge to hit 20,000 by March 2023, and a further 499 additional officers recruited through other funding streams (such as from local council tax precept), according to a quarterly report on the progress of the Police Uplift programme.
More than four in ten new recruits (42 per cent) have been female and 10.6 per cent who identified as belonging to a minority ethnic group. More women (45,996) are now employed as police officers in forces across England and Wales than ever before while the number of black, Asian and other ethnic minority officers is also now at its highest point on record at 10,218.
The Home Office says the Police Uplift programme is "an unprecedented opportunity to create a more representative police workforce", and the statistics show that forces are more diverse than ever before.
There have been some 139,312 applications to become an officer since the campaign was launched in October 2019.
John Apter, national chair of the Police Federation of England and Wales, said, "These first-year uplift recruitment figures are a good start towards bringing us back to pre-austerity numbers after decades of harsh cuts, but policing is far from having the numbers of officers needed to be able to police in the way we want to.
"Added to this, the Covid-19 pandemic has put policing under more pressure than ever. With an increasing population, the goal for the Government should not just to be to make up the numbers to replace the officers we have lost to austerity, but to instead, exceed this target so my colleagues have the resilience they need to serve the public effectively in the way they deserve."
Between March 2010 and March 2018, Mr Apter said police forces in England and Wales lost 21,732 officers due to austerity measures – the officers recruited over the past year as a result of the 'uplift' will go towards making up just under half that number.
Policing Minister Kit Malthouse said: "An increase of 8,771 officers [under the Police Uplift programme] is a great achievement, and I want to thank forces for their considerable efforts to help us exceed our target for the first year of the recruitment campaign.
"It is fantastic that our police forces are now more diverse than ever before, but we know there is still more work to do to on this front – I will continue working with police leaders to ensure our forces are truly representative of the communities they serve."
Home Secretary Priti Patel said she was "delighted" by the progress, arguing it "surpassed expectations", as the Conservative Party welcomed the announcement.
Prime Minister Boris Johnson said: "In just one year, we have hired an extra 9,000 police officers, smashing our first-year target and putting us well on track to recruit the 20,000 new officers we promised."