Unseen heroes in countering terrorism recognised in Queen's New Year Honours 
Forty-three people involved in the response to the major terrorist incidents of 2017 have received awards in the New Year Honours List.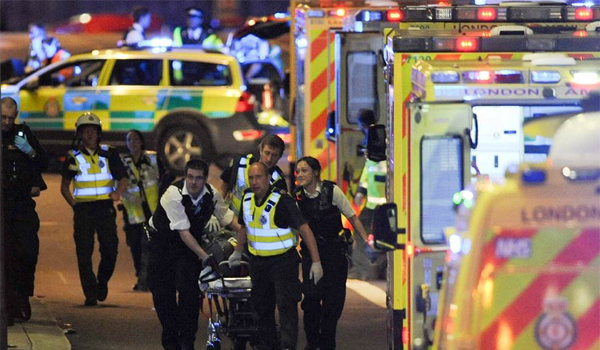 The Director of Operations at the London Ambulance Service, a theatre nurse at Barts Hospital and many unsung heroes in police forensics, family liaison, analysis and police community support officers (PCSOs) who dealt with the Westminster, London Bridge, Finsbury Park, Parsons Green and Manchester Arena terror attacks have been recognised in Her Majesty the Queen's New Year Honours. 
A "significant process" was undertaken jointly by Greater Manchester Police (GMP), the Metropolitan Police Service (MPS) and City of London Police to identify the most exceptional contributions following the atrocities. 
Greater Manchester Police's Family Liaison Lead, Detective Chief Inspector Theresa Lam, has been awarded the British Empire Medal (BEM). And Acting Detective Sergeant Zac Idun, who was the Family Liaison Coordinator for the 13 people killed, over 80 injured and four terrorists shot by the police in the Westminster and London Bridge incidents, will receive the Order of the British Empire (OBE). 
A/Det Sgt Idun was also involved supporting the many victims of the Sousse, Tunisia atrocity in 2015. 
He told Police Professional that he was "flabbergasted" as all counter terror officers and staff work extremely hard to protect the public, not to receive awards.  
With almost 26 years policing experience, and having worked in the CT arena since 2004, A/Det Sgt Idun has been instrumental in the development of best practice in victim and suspect family liaison globally. 
"Following the July 7, 2005 bombings, it was recognised that the family liaison role, not just with victims but also suspects, was a major part of counter terror investigations. We have taken good practice from wherever we have found it and, unfortunately, the threat from terrorism is not going away, so the role of CT investigators and family liaison will continue out of sight of most people and be just as vital in the years to come." 
William Bryden, who has worked in policing for more than 40 years and with British Transport Police since 2004 in a variety of roles, has been recognised with an OBE for the passion, dedication and professionalism he has shown during his years of service. 
Mr Bryden has specialised in forensic recovery, in particular disaster victim identification, and worked on a number of high-profile incidents, including the Potters Bar train crash, Boxing Day Tsunami, Hillsborough disaster, the terrorist attacks at London Bridge and Manchester Arena and the Grenfell Tower fire. 
Digital forensics expert Claire Summers has also been awarded an OBE for services to Counter Terrorism Policing. Ms Summers is Head of the Technical Innovation and Development Environment within Counter Terrorism Policing. 
As a Cambridge physicist, she routinely gives up evenings and weekends to seek innovative solutions to the most complex technical challenges within CT and with her team has pushed the boundaries of digital forensics globally. 
In the past year Ms Summers has supported every major terrorist investigation in the UK including Borough Market, Finsbury Park and Westminster Bridge. 
She said she was surprised to have been included in the list: "Rapid technological change has brought multiple challenges across society. Working alongside hugely talented and committed colleagues, I feel privileged to have had the opportunity to contribute my skills to the efforts of the police service in adjusting and responding to 21st century problems." 
And GMP's Robert Gallagher becomes Member of the British Empire (MBE) for services to policing, particularly his work in managing the forensic response to the Manchester Arena attack, including the disaster victim identification. Mr Gallagher has worked in forensic services since 1997. 
The MPS Counter Terrorism Command's Senior Intelligence Analyst Anthony Joy has been appointed MBE after serving with distinction in a career spanning 17 years within Barnet Borough, the MPS's Crime Academy, the Child Abuse Investigation Command and Met Intelligence. He is currently responsible for more than 50 intelligence analysts and 30 researchers who support CT policing in London. 
Mr Joy has improved closer-working with the MPS's Neighbourhood Policing and Serious and Organised Crime units to combat radicalisation and extremism in London. He is the first chairman of the Arsenal FC Disabled Supporters Association. As a wheelchair user since birth, he has also been instrumental in seeking to improve the access to, and experience for disabled people at, sport stadia and grounds. 
British Transport Police Constable Jess Bullough has been awarded the Queen's Police Medal, Police Constable, but then PCSO, Mark Renshaw, PCSO Jon Morrey and PCSO Lewis Brown have received the BEM for their exemplary levels of bravery following the Manchester Arena attack. 
All four were on duty at Manchester Victoria station on May 22 last year when the blast took place. On hearing screams, all four ran towards danger and to scenes of devastation. They were the first emergency service personnel on scene and, throughout the tragedy, the team of four worked heroically in getting the injured to safety and calling for backup. 
Greater Manchester Special Constabulary Sergeant Jared Simpson also receives the BEM. Sgt Simpson works for GMP as a detention officer and is also a volunteer officer in Oldham, having worked in the Special Constabulary for nine years. He was one of the first GMP officers on the scene at Manchester Arena. 
Sgt Simpson said: "It's an absolute honour to be recognised in this way and I'm truly humbled. My first thought is always for the victim or victims that have been affected by whatever I am dealing with, and they will always be my first priority." 
Another Metropolitan Police Service (MPS) officer to receive the OBE is the senior investigating officer for the Sousse attack – Detective Superintendent Mark Gower. 
Det Supt Gower also led and commanded the response to the 2017 terrorist attack at Finsbury Park, where Darren Osborne deliberately drove a hire van at members of the Muslim community, killing one and seriously injuring others. 
Some months later, when the terrorist attack at Parsons Green took place, he led the investigation and coordinated resources from across the MPS in conjunction with Security Service partners to identify the bomber. 
Former MPS Commander of Counter Terrorism Teresa Nicholson, Sergeant Leslie Jackson, Detective Superintendent John Crossley and Police Constable Phillip Stone were awarded a QPM for distinguished services to policing related to CT. 
MPS Police Constable Nick Carlisle was awarded the QPM for distinguished services to policing during the Westminster terrorist attack. 
And Police Constables Tim Andrews and Sam Balfour, Lian Rae and Bartosz Tchorzewski were awarded the QPM for distinguished services to policing during the London Bridge/Borough Market terrorist attack. 
GMP Chief Inspector Dale Sexton also receives the Queen's Police Medal. He was the force's Duty Officer responsible for the initial management of critical incidents on the night of the Manchester Arena attack.  
Chief Insp Sexton said: "The response to the attack was a team effort and I was just part of that team. It is an honour to be recognised in this way; however, I regard this as a reflection of the exceptional courage everyone displayed that night. My thoughts will always remain with the victims and their families." 
GMP's chief constable praised the actions of his officers on the night of the attack. 
Ian Hopkins said: "The response to the attack on May 22, 2017 was truly outstanding and I am immensely proud of everything that the officers and staff of Greater Manchester Police did on that day and the days that followed.  
"The honours for Teresa, Jared, Robert and Dale, recognise the commitment, dedication and professionalism they showed in such horrific circumstances. They represent all of their colleagues in receiving these honours as well as their own exceptional work." 
MPS Commissioner Cressida Dick added: "This is a truly exceptional New Year's Honours List for the Met. The extraordinary, courageous, compassionate and professional actions of our staff and members of the public during the appalling events of the terrorist attacks of 2017 have been recognised by Her Majesty. 
"In addition, the list recognises officers, staff and volunteers who are examples to us all for their innovation, dedication and professionalism. The breadth of their different roles and their contributions locally, nationally and internationally is a small snapshot of all the professional men and women of the Met. 
"I am very proud of them all and that they have been recognised in this special way. Many congratulations." 
Others involved in the counter terror policy and prosecution worlds to be honoured include Dr Richard Thompson, Head of Counter-Terrorism Strategy, Home Office, who receives the OBE. 
Susan Hemming OBE, Head of Special Crime and Counter Terrorism Division, Crown Prosecution Service becomes Commander of the British Empire (CBE) for services to Law and Order, particularly in Counter Terrorism.