'Universal increase' in the demand on control rooms
More than three quarters of emergency services control rooms say the volume of 999 calls has increased dramatically in the past year, sometimes by as much as 100 per cent.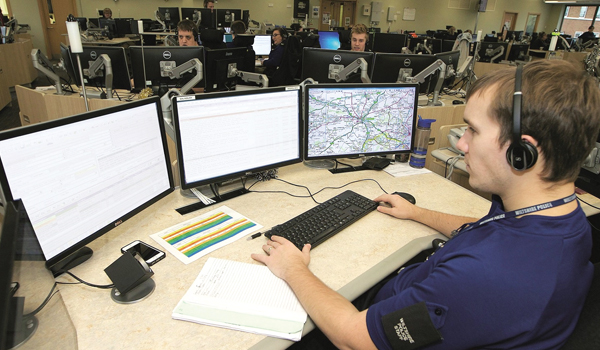 And a big factor in this is the accessibility to technology in order to report crime. 
According to Ofcom 2017 data, fixed broadband connectivity had increased to 82 per cent across the UK, while mobile phone ownership reached 96 per cent. Access to the internet via a smartphone also increased – from 20 per cent in 2009 to 66 per cent in 2017. 
Analysis by APD Communications during the first half of this year found there was a "universal increase in demand on critical and emergency control rooms and their resources". 
Three-quarters of respondents to the survey to determine the challenges facing control rooms said 999 call volumes had increased in the past 12 months – ranging from five per cent to almost 100 per cent. 
Seventy per cent of those questioned also reported an increase in 101 calls based on their experiences throughout the past year.  
"These figures broadly concur with Freedom of Information requests to control rooms in the past year, as well as published figures from several UK regions," explained APD Communications marketing executive Jane Cross. 
"As part of our research, we've been exploring the underlying drivers of such increased call volumes." 
She said while there was little UK-wide statistical evidence publically available as to why calls to 999 and 101 have increased, "there have been a number of articles, reports and studies outlining some rationale for an increase".  
In 2017, for example, the Metropolitan Police Service reported receiving a mental health-related call every five minutes – which equates to 315 a day, said Ms Cross: "That's a 33 per cent increase over three years and comes with a 60 per cent increase in referrals to the NHS mental health crises team." 
In addition to new ways of reporting crime, APD Communications says changes in population demographics are also likely to increase call volumes even further. 
The latest available data from the Office of National Statistics, published in June 2017, showed that the UK's population rose at its sharpest rate for 70 years to almost 66 million, with London's growth rate more than twice that of Wales, Scotland, Northern Ireland and three northern English regions. The UK's population is projected to continue growing, reaching more than 74 million by 2039.  
Recognising this increase in demand on emergency control rooms, APD Communications says a core focus of its research – which is due to be published as a White Paper – is building knowledge about: 
The most common non-emergency 999 call-types, with root-cause analysis to devise and deliver the best strategies to minimise or prevent misuse of emergency lines;
Strategies to help personnel in critical and emergency control rooms manage genuine demand from the public, including an overview of the most common new contact methods being used across the country, plus insights on the role of education and training; and
Future technologies that could support emergency and critical control rooms to interact with the public wherever they are – online or in person.
"In the full report, we'll conduct a deeper investigation into each of these factors to build common knowledge as to how exactly they could be significantly impacting demand on the control room throughout the country," said Ms Cross.