United campaign against Islamophobia as anti-Muslim letters spark hate crime fears
Police Scotland stepped up patrols around mosques and other religious buildings to reassure communities following an anti-Muslim hate campaign.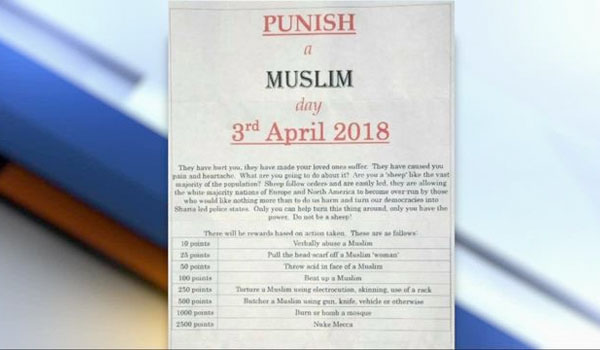 Call handlers had also been briefed to escalate calls appropriately, and "intelligence assets" were "looking for signals".
The extra steps were put in place for an event today, which has been dubbed 'Punish a Muslim Day' on social media and in letters sent to random addresses across the UK and to several MPs in England last month. The campaign suggests people earn 'points' on a sliding scale by attacking Muslims.
Meanwhile, hundreds of people are reportedly gathering for solidarity events in response, organised by anti-racism, faith and community groups. Forces have urged Muslims to "unite" and "carry on as normal" in the face of the letter's threats as they sought to reassure communities amid reports of the shocking note being shared widely.
At least eight "#DayofSolidarity" events have been organised in London alone, with demonstrations expected to take place in Haringey, Islington, Newham, Tower Hamlets and Waltham Forest on Tuesday (April 3).
Similar events are also expected to take place in other major cities including Manchester and Birmingham.
People have also been sharing stories of their solidarity with Muslim communities and offering support for anyone left frightened by the threatening letters since details of it emerged.
In the single known Scottish case related to the campaign, a 14-year-old boy last month asked a pupil outside a Glasgow school if he could rip off her hijab so it could be filmed to earn 25 points.
The letters are now being investigated by counter-terrorism officers in North East England. No letters have appeared so far in Scotland, but the campaign has caused anxiety among Muslim communities.
At Holyrood last night, a meeting of a cross-party group on tackling Islamophobia heard reports of children being scared, of adults considering staying off work, and even one couple considering cancelling their wedding today.
Senior police officers across the UK have stressed there is no intelligence of any direct threat to anyone in Scotland, and the matter was "a risk" rather than a threat.
Police Scotland Deputy Chief Constable Johnny Gwynne, who is from Northern Ireland, said: "We are taking this seriously. I was brought up in a place where people were killing each other and hating each because they were a Protestant or a Catholic. I understand this.
"I've lived through a similar thing. I get the fear behind it, and hence we're taking it seriously."
He added: "Our job is to stop that cancer in life which is hatred. Our job is to deal with it and stand between you and that harm. Not just next week, but in any week of this year."
Chief Inspector Shaheen Baber said control rooms were already running a unique exercise in relation to the hate campaign, and relevant calls would be "tagged as a priority" for a "faster response".
He said: "We have extra patrols to make sure that our community centres, including other minorities, get extra attention."
A Metropolitan Police Service spokesperson added: "We are aware of continuing concerns circulating in the community about some correspondence that has been widely shared on social media.
"These messages seek to cause fear and mistrust amongst our communities and to divide us. Yet in spite of this our communities have shown strength in their response to such hatred and in their support for each other.