Unacceptable number of road deaths as 'cameras have replaced officers'
A dramatic fall in the number of traffic officers on the road has been described as a major factor behind the rising number of road deaths through vehicle occupants failing to wear seatbelts.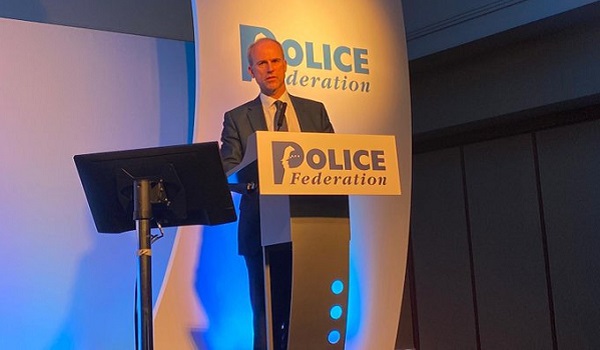 Speaking at the Police Federation of England and Wales (PFEW) annual Roads Policing Conference today (January 28), West Mercia Police Chief Constable Anthony Bangham said: "The number of deaths through non-seatbelt wearing is on the rise. Twenty-seven per cent of deaths are from this. If we are not out there enforcing it, then we shouldn't be surprised. Less officers over the past number of years has meant less enforcement."
The number of officers involved in policing the roads has fallen by 24 per cent since 2012. Some forces have seen even more dramatic declines. In Northamptonshire, the number of roads officers has fallen by 83 per cent.
Mr Bangham, who is the National Police Chiefs' Council (NPCC) lead for Roads Policing, said there were 1,784 road deaths last year.
"Five people a day are dying on our roads. That cannot be right. Twice as many people die on our roads than through homicide," he added.
"We need to ask what we can do better to reduce the totally unacceptable rate of deaths on our roads. Not a single child was killed on Norway's roads in 2019. We need to look to their example."
Mr Bangham said the uplift in officer numbers provided an opportunity to ensure the next generation of roads policing officer had the necessary skills and focus to be able to stop vehicles to maximise both road safety and opportunities to disrupt crime.
"Policing our roads is a core activity… if you stop cars you will catch criminals. Good policing is about understanding how to stop a vehicle. It is our bread and butter," he said.
He added that although technology had in place in improving road safety, it could not solve the issue alone.
"Cameras should never be seen as a replacement for police officers," said Mr Bangham. "But unfortunately, I feel they have. We must work to get that back because you cannot compare what an officer can do to what a camera does."
Earlier in the conference, PFEW chair John Apter told delegates: "Roads policing is not a 'nice to have', but that's how it's felt over the last ten years. Roads policing is an essential piece of policing. It has been the poor relation for far too long."
The event began with a minute's silence in remembrance of Police Constable Nick Dumphreys, the Cumbria Police officer who was killed in a road single vehicle collision on the M6 while on duty at the weekend.
Policing Minister Kit Malthouse addressed the conference via video, announcing the launch of a review of road safety, to be conducted in conjunction with the NPCC and the Department of Transport, to find ways to drive down the number of casualties on the roads, a figure that has remained static for the past decade.
He also said action would be taken in respect of the PFEW's long-running campaign on the treatment of response and pursuit drivers who find themselves charged with offences and their driving skills assessed against the standard of a normal motorist.
Mr Malthouse said the current situation "obviously doesn't make sense, given the high degree of training and skill" that such officers possess. He said that as part of the New Police Power and Protection Bill a new test would be introduced to create "a proper level playing field".
He said that under the new Bill, officers would be "assessed against similar colleagues with similar standards of training, rather than against ordinary members of the public, which we hope will help you in your work and remove some of the risk you are facing as you do that important task".