UK link to Sri Lanka suicide bombers
One of the nine attackers behind the Easter Sunday bombings in Sri Lanka studied in the UK, according to the country's defence minister.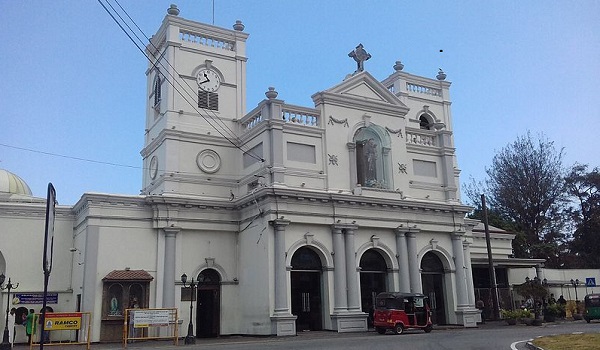 Many of the bombers had international connections, having lived or studied abroad, Ruwan Wijewardene told a press conference on Wednesday morning (April 24). 
"We believe that one of the suicide bombers studied in the UK and then later on did his post-graduate in Australia before coming back to settle in Sri Lanka," Mr Wijewardene said. 
The death toll from the attacks has risen to 359, with more than 500 people injured 
Mr Wijewardene said the suicide bombers were mostly "well-educated and from middle or upper-middle class, so they are financially quite independent and their families are quite stable financially". 
"That is a worrying factor in this," he added. "Some of them have I think studied in various other countries, they hold degrees, LLMs [law degrees], they're quite well-educated people." 
He said that one of the suicide bombers was a woman and added that 100 people had now been arrested in connection with the attacks. The UK, US, Australia and UAE are among the countries helping Sri Lanka with intelligence in the wake of Easter Sunday events amid fears that further attacks may be being planned. 
Alaina Teplitz, US ambassador to Sri Lanka, said: "We believe there are ongoing terrorist plots. Terrorists can strike without warning. Typical venues are large gatherings, public spaces." 
Yesterday (April 23) Sri Lanka's Prime Minister Ranil Wickremesinghe confirmed that intelligence related to the attacks had been received in advance and that there had been "a breakdown of communication". Police are investigating whether the warnings were ignored or missed before the violence began. 
However, the US denied it had any knowledge that an attack was expected. 
Islamic State has claimed responsibility for the Easter bombings through the group's Amaq news agency and published a statement saying its "fighters" were responsible and listing the names of the suicide bombers, who were also shown in a video swearing allegiance.