UCPI chair urged to resign following dramatic mass walk out
Around 60 people have walked out of an Undercover Policing Inquiry (UCPI) anonymity hearing, calling for the chair to stand down or appoint a full panel.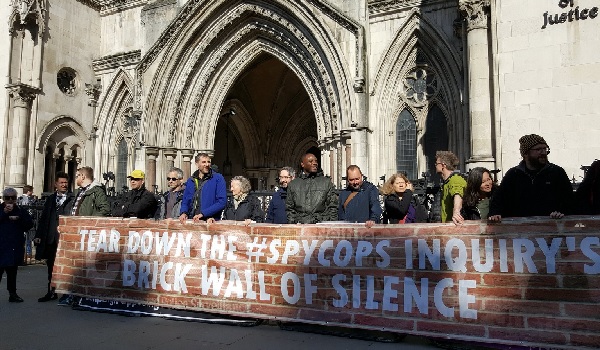 Campaigners and participants cheered as they abandoned the Royal Courts of Justice on Wednesday (March 21) and revealed a banner outside reading: "Tear down the #spycops inquiry's brick wall of silence" and chanted "Mitting out".
Phillippa Kaufman, representing more than 200 alleged victims, said her clients could not participate meaningfully after a number of former undercover officers were granted anonymity.
Sir John Mitting was chosen to lead the UCPI in 2017 following news that former chair Sir Christopher Pitchford had been diagnosed with motor neurone disease.
At the hearing, Ms Kaufmann read a statement on behalf of campaigners before they walked out, which stated: "It is now abundantly clear that we simply cannot participate in this hearing in a meaningful way.
"Our clients are not prepared actively to participate in a process where their presence is mere window dressing lacking all substance and meaning which would achieve nothing other than to lend the process a legitimacy it does not have.
"There are two key questions. What were the cover names, and which groups were spied on? Without those two bits of information it's nigh-on impossible for people to come forward to say this is what happened to me and my group.
"I'm sorry to say this, we have the usual white, upper middle class, elderly gentleman, whose life experiences are a million miles away from those who were spied upon."
After the campaigners walked out, Sir John reportedly gave no reaction and called for the next round of submissions on the legal applications.
The UCPI was launched in 2015 following revelations Special Demonstration Squad officers had assumed dead children's names, deceived women into relationships and infiltrated campaign groups close to the family of murdered teenager Stephen Lawrence.
However, a Tradecraft Manual released by the UCPI on Tuesday (March 20) told officers to engage in sexual relationships only if they "have no other option" and advised against using deceased children's names as their own.
Baroness Doreen Lawrence – who could not attend court – also called on Sir John to resign or a panel to be appointed "before any more money is spent".
"Anything less than this will lead me to consider carefully whether I should continue to participate in this inquiry," she added.
"He is turning what should be a transparent, accountable and public hearing into an inquiry cloaked in secrecy and anonymity."