Two men jailed after investigation uncovered 'extremely disturbing child abuse'
A former officer and Welsh government lawyer have been sent to prison for a total of 32 years after carrying out sex attacks on young children.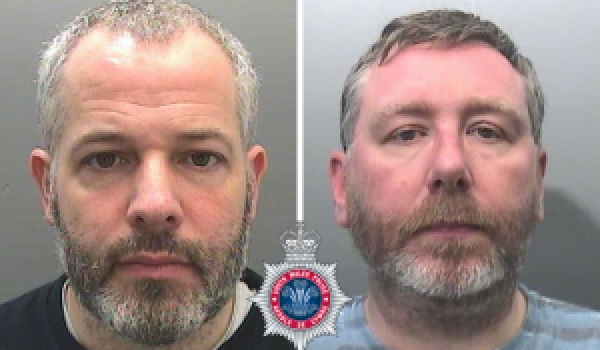 John Ryan-Guess and Dean Roberts, formally a police constable with South Wales Police, were both sentenced to 20 years and 12 years' imprisonment respectively at Cardiff Crown Court on Monday (August 6).
Their offending came to light following an investigation into the online activities of lawyer Ryan-Guess, which led to evidence concerning the behaviour of Roberts.
The evidence against Roberts and Ryan-Guess was so strong that they both entered guilty pleas.
The court heard how 43-year-old Ryan-Guess preyed on young girls before sharing pictures and videos of his abuse on an online chat room.
And Roberts, 48, filmed himself abusing an infant and sent the footage to other paedophiles on a messaging application.
He was dismissed from South Wales Police following a special case hearing on June 14, having previously resigned from the force on May 29.
An investigation into the pair – launched in April – found that they had planned to jointly abuse children and share footage of their crimes online. The investigation also led to further arrests across England as well as overseas.
Roberts admitted to one count of rape and five indecent assaults, while Ryan-Guess pleaded guilty to 37 charges, including sexual assault and making indecent images.
Ryan-Guess also admitted aiding and abetting Roberts to commit sexual assault.
Detective Superintendent Wendy Gunney said: "Today's sentences reflect the gravity of the crimes that have been committed. The two people responsible for the appalling abuse of a number of very young children have now been brought to justice.
"The investigation uncovered extremely disturbing child abuse evidence and the guilty pleas have ensured that the jury were spared from viewing evidence that would have been extremely traumatic.
"The safeguarding of children has been an absolute priority for the investigation team. Today's sentence does not mark the end of our investigations and we will work tirelessly to identify any other victims or witnesses and seek the justice they deserve.
"There are also investigations being conducted by other police forces in the UK and around the world.
"Above all this investigation has been focused on the protection of children and my thoughts today remain with those victims."