Two men convicted of viral video assault on officers
Two men who were filmed assaulting police officers, prompting a wave of condemnation about both the increase of attacks and the role of social media in spreading such footage, have pleaded guilty to Actual Bodily Harm (ABH).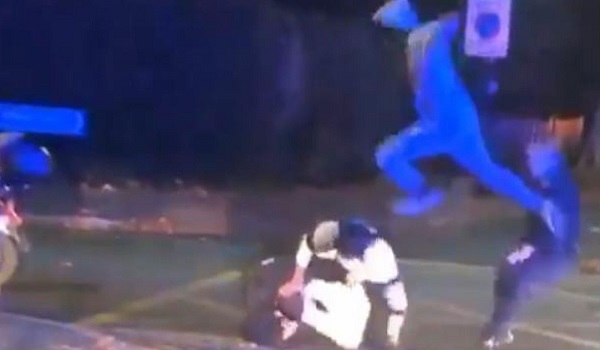 Martin Payne and Kursan Euell, both 20, were among the occupants of a vehicle that was subjected to a police stop in Merton, south London, on November 17. The three occupants of the vehicle ran off, but the officers managed to detain Payne before Euell and another suspect returned and assaulted the officers. 
At Kingston Crown Court, Euell pleaded guilty to two counts of ABH. Payne pleaded guilty to one count of ABH and driving without insurance. Both men will be sentenced in January. 
Footage of the attack, which showed a man delivering a flying kick to the head of a female officer and a male officer being dragged around, was uploaded to social media and viewed tens of thousands of times. The female officer, who sustained head injuries in the attack, and her male colleague, who suffered cuts, both required hospital treatment.  
Following the incident Lancashire Constabulary Chief Constable Andy Rhodes, the National Police Chiefs' Council Lead for Organisational Development and Wellbeing, said the filming of such attacks was "sickening" but was "becoming the norm", encouraged by the wide ownership of iPhones and social media.   
The attack also led to warnings from the Police Federation of England and Wales that officers would have to back off arresting violent people if their safety was threatened, even if this might mean suspects escaped.   
Earlier this month Metropolitan Police Service Commissioner Cressida Dick encouraged members of the public to step in and assist in such situations.  
"If you see an officer getting a kicking and you feel able to assist, absolutely I want my public getting involved. We don't want people taking crazy risks, we do want people getting involved," she said.  
Following the court hearing, Chief Superintendent Colin Wingrove, OCU Commander for Roads and Transport Policing and Chief Superintendent Sally Benatar, South West BCU Commander, said in a joint statement: "The impact of this despicable assault has been considerable, not only on the two officers involved but on their families, friends and colleagues.  
"Whilst police officers are rightly expected to handle difficult and hostile situations on a regular basis, we do not accept that assaults are part of the job, and we feel that our officers deserve the protection of the law in order to do their jobs effectively.  
"We are pleased that the two suspects have been brought before the court swiftly. We would also like to publicly thank the member of public who stepped in to assist at the time and his actions will be recognised at a formal commendation ceremony."