Tributes pour in following death of Ron Hogg
The police, crime and victims' commissioner (PCVC) for Durham until recently stepping down through illness has died peacefully today (December 17).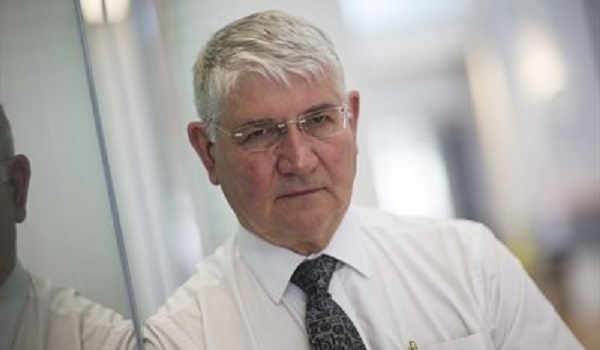 Tributes have been issued from many areas of policing for Ron Hogg, a former senior police officer, local Labour politician and lately prominent advocate for victims and the vulnerable in society.
The Office of the PCVC said: "It is with great sadness that we announce the passing of Ron Hogg, police, crime and victims' commissioner for County Durham and Darlington. Ron died peacefully on Tuesday morning, having been diagnosed with Motor Neurone Disease earlier this year.
Mr Hogg stepped down from his policing governance role in September.
He joined Northumbria Police in 1978 on its fast-track entrance programme after a brief spell teaching. Three years later, he transferred to Northamptonshire Police but retuned as a superintendent in 1992. He later became assistant chief constable in Durham before gaining promotion to deputy chief constable of Cleveland Police in 2003. He retired from the service in 2008 after 30 years' service.
As PCVC, Mr Hogg campaigned passionately for legislative reform on drugs. He was an advocate for, and helped establish, diversion programmes to prevent offenders progressing into serious criminality.
And, after being diagnosed with Motor Neurone Disease, he also campaigned for a change in the law on assisted dying.
Acting PCVC Steve White led the tributes. He said: "In my 30 years of policing, I have never known of someone so universally liked and respected as Ron was by officers, staff, politicians and officials. He will be greatly missed and leaves a lasting legacy."
Chief Constable Jo Farrell added: "Durham Constabulary and the people of County Durham and Darlington have lost a great colleague and friend.
"Ron was a radical thinker, an inspiring leader and a lifelong public servant who wasn't afraid to tackle head-on some of the most difficult issues facing society.
"I would like to offer [wife] Maureen and the rest of Ron's family my deepest sympathies and the condolences of everyone at the Durham Constabulary."
Tributes were made by police and crime commissioners (PCCs) across the country. Chair of the Association of Police and Crime Commissioners (APCC),Katy Bourne, said: "It is a day of great sadness for us and, on behalf of my PCC colleagues, I would like to offer our deepest condolences to Ron's family, friends and everyone at Durham Constabulary.
"We will all have our individual and fond memories of Ron who was totally committed to policing and an exemplary public servant." 
APCC vice-chair and Labour Group lead Mark Burns-Williamson added his condolences to Mr Hogg's wife, family, friends and colleagues and reflected on his legacy.
He said: "We are deeply saddened to hear of the untimely passing of our friend and colleague Ron Hogg, former PCVC for Durham.
"Ron was a hugely respected PCC among his colleagues, staff and the communities across Durham and more widely. He will be deeply missed and leaves a lasting legacy of impressive achievement.
"Ron made a significant and lasting contribution to the national work of the APCC, in particular through his work around workforce transformation and reform. PCCs across England and Wales have so much to be grateful to Ron for and will miss his infectious enthusiasm, dry sense of humour and his deep commitment to public service and keeping our communities safe."
Victims Commissioner and former PCC for Northumbria Vera Baird said: "I was shocked and sorry to hear that my friend and former PCC colleague Ron Hogg has died. So soon after his diagnosis. A man committed to public service, a leader on the rehabilitation of low level offenders and a pioneer on the treatment of drugs offenders."
Former Conservative PCC for Essex, Nick Alston, tweeted: "A sad loss. Ron was a good colleague, committed Commissioner and member of @AssocPCCs. My condolences to Ron's family and friends."
Sarah Wootton, chief executive of Dignity in Dying, posted on Twitter: "Saddened to learn police chief and indefatigable campaigner Ron Hogg has died. Sad also that Ron was not able to live to see the @dignityindyinglaw reform he campaigned so passionately for. A better, kinder and safer law is long overdue."
The Office of the PCVC in Durham added: "Ron's family will announce the date of the funeral in due course. They are extremely grateful for the many warm messages Ron received over the past few months and have asked that no cards or flowers be sent."