Tributes paid to former Isle of Man officer who died from coronavirus
Isle of Man Constabulary Chief Constable Gary Roberts has described the death from coronavirus of retired officer Richard Lloyd as the " saddest day of his 36-year police career".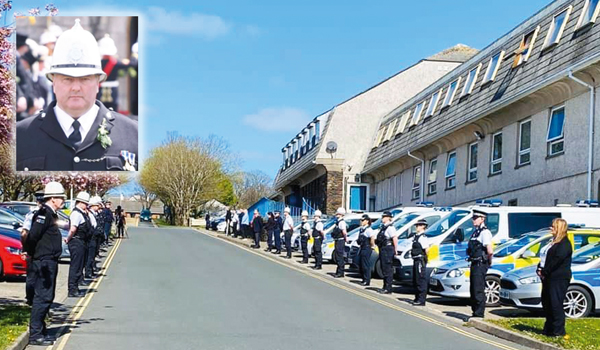 "So many of us are heartbroken after the death of a friend, colleague and giant of a man, who has been taken by this wicked virus," he added.
Mr Lloyd, known as 'Richie' to friends and colleagues, was 57 and died in the intensive care unit at Noble's Hospital, just after 3pm on Easter Saturday (April 11). He is the second person on the Island to die after contracting the virus.
Mr Roberts said: "It is no exaggeration to say that the Isle of Man Constabulary is heartbroken today. Richie Lloyd was a wonderful man. He was kind, caring, brave, loyal and utterly dedicated to public service. I have known him for nearly 30 years and in that time I have never heard anyone, colleague, member of the public, or even those people who get into trouble, say a bad word about him. He had a wonderfully disarming sense of humour.
"It has become a cliché to talk about the values required to be a police officer. Richie was what I want every police officer to be like. He cared about people, he never put himself first and he loved serving the public.
"We will miss him enormously, as will his many friends, the young people from our volunteer youth scheme, his many former colleagues, and, of course, his family. I am so sorry for the loss his wife, Glen, has suffered and my heart goes out to her and to his son, Andy, a former member of the constabulary and now a sergeant in Merseyside Police. Their grief must be crushing."
Mr Lloyd, from Ballabeg, served for 30 years as a police officer, both with Merseyside Police and the Isle of Man Constabulary, where he spent the majority of his service, retiring as a sergeant in September 2012.
He served in a variety of roles, working as a community officer across the Island, in the drugs squad, as a sergeant in Douglas and in custody. He also played a key role in the Island's police cadet force.
After retiring as an officer, Mr Lloyd maintained his relationship with policing, returning as a 'first contact' officer at the constabulary's headquarters, in which capacity he had daily contact with many members of the public offering advice and support.
Since the launch of the constabulary's volunteer police youth scheme, Mr Lloyd had worked as a volunteer, mentoring and leading young people. The force said this was work he loved and, in return, the dozens of young people who have been members of the scheme loved and respected him as a role model.
"They are deeply saddened by Richie's death and paid tribute to him on the Police Cadets Facebook page," it added.
Mr Lloyd was also a talented sportsman, representing the Isle of Man in judo at national and international level, and at events such as the Island Games. He won a bronze medal in the world police fire and rescue games, held in Stockholm, Sweden in 1999. As part of his passion for sport he managed the Isle of Man judo team and also worked with Special Olympics athletes. The constabulary said he was a "true public servant in every sense of the role".
Hundreds of tributes and comments from colleagues past and present have been made through various social media outlets, including the Isle Of Man Constabulary Historian page on Facebook, with pictures and memories from a life in public service.
Historian Dean Johnson said "the gap Richie leaves will not be filled", adding: "The depth of loss felt by all who knew Richie is unfathomable. Seldom in life do people have such an impact on others like he did. It would not be an overestimation to say that the vast majority of police officers and staff on the island have in some way been positively influenced by this giant of a man."
The constabulary added: "Richie leaves behind a loving family, his wife Glen, his mother Rita, Andy his son and his granddaughter Ffion who he adored."
Flags on force buildings were flown at half-mast and officers stood in respect for Mr Lloyd at 12 noon on Easter Monday.