Triage promises fast access to care
A'blue light' initiative to ensure people experiencing a mental health crisis have fast access to care has been launched by City of London Police and the NHS.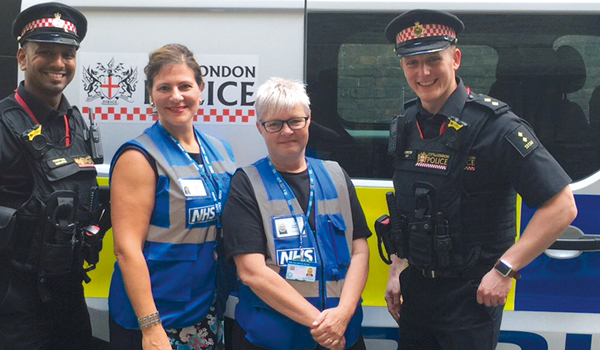 A'blue light' initiative to ensure people experiencing a mental health crisis have fast access to care has been launched by City of London Police and the NHS. As part of the mental health street triage (MHST) service, an occupational therapist and social will worker travel with police officers to incidents where there is an immediate threat to life flagged by the 999 control room – someone threatening to self-harm, or commit suicide – or where a third party has contacted the police or ambulance and expressed concern for someone. The force says the triage is designed to deliver fast and efficient access to care and avoid unnecessary 'section 136' detentions in a place of safety under the Mental Health Act – typically a specialist suite in a hospital setting, where patients are formally assessed by mental health professionals. City of London Police is working with East London NHS Foundation Trust on the pilot scheme. Sergeant Mark Montgomery, who is leading the trial on behalf of the force, said: "Street triage is a proven tool for stronger partnership understanding and working, which provides the best service to our community and most importantly, to the person in need of care. "Our plan is to use street triage to create a better understanding of mental health for officers and enable them to have the ability to seek specialist advice so better judgments can be made on the street about patient care. "This is a great opportunity for establishing a solid partnership base between us and East London NHS Foundation Trust, which we can grow and expand on, more importantly it provides officers with advice and assistance in making decisions about a person's vulnerability and welfare. "This partnership will enhance and provide the best possible service available to those in crisis." The MHST team is helping reduce detentions by assessing individuals and identifying appropriate care or support, which can include arranging contact with drug and alcohol services and colleagues from across mental health services. The service also aims to reduce the amount of time police officers, and other emergency services, spend managing mental health situations and to reduce inappropriate admissions to hospital emergency departments. The team is based at Bishopsgate police station and 'operates' from 5pm to 3am Wednesday to Sunday. The operating hours have been set around the hours when most section 136 detentions have occurred and when the 'night-time economy' of late-night bars, clubs and restaurants is at its peak and officers are at their busiest. Outside these hours, the response to a mental health crisis will follow the usual processes already in place. Dean Henderson, borough director for East London NHS Foundation Trust City and Hackney Services, said: "Our goal is to help vulnerable individuals feel calm, safe and reduce the number of people in crisis needing to be taken to places of safety for assessment. "Early indications are that the street triage scheme is doing just that. "This is a better outcome for the people dealt with and a better use of police and NHS resources." The MHST service will be piloted until December.