Tracking software helping to tackle computer theft
Technology has been helping the police to crack down on computer theft and data loss.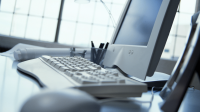 Technology has been helping the police to crack down on computer theft and data loss.
Absolute Software's tracking and recovery software has recovered over 5,000 stolen computers worldwide – and that number is set to grow rapidly with the prevalence of mobile devices and their attractiveness to thieves.
Absolute's Computrace®One™, is unique in that it provides the underlying services in the form of theft recovery officers who work directly with police around the world in order to track lost and stolen laptops and return them to the rightful owners.
Absolute's technology has been awarded the Association of Chief Police Officers (ACPO) 'Secured by Design' accreditation.
Currently, only the police have the authority to recover the stolen property. If this isn't possible, for example the laptop turns up in a country where the local police aren't cooperative, the remote data delete feature of ComputraceOne can be used to render the device useless and delete any sensitive data. In either case, both serve as a powerful deterrent to thieves.
Alan McInnes, general manager, ACPO Crime Prevention Initiatives (CPI) said: "As well as helping police to tackle crime, this software addresses the ACPO and Home Office desire that valuable consumer goods should have crime prevention measures incorporated in the design and manufacture.
"The recent spate of high-profile UK Government data loss incidents appears to be beyond measure. But these reflect a simple truth: today's world is increasingly mobile, and the devices we use to achieve that contain even more critical information, business, governmental and personal."
William Pound, VP International Operations, Absolute Software, said: "The time to put security measures in place is before something happens, not after, and it's time that UK businesses and organisations put mobile security policies and systems into place to prevent data losses and to prevent thieves from profiting from crime."
He continued: "If these devices get into the wrong hands, the consequences could be disastrous. Organisations must adopt a multi-layered approach to security and use an asset-tracking solution so that stolen or lost laptops can be retrieved and any sensitive data it contains deleted remotely."
One recent recovery in the West Midlands using ComputraceOne tracking led the police to more than 30 stolen laptops and the arrest of the culprits.
ComputraceOne is pre-installed on a range of laptops from manufacturers including Dell, HP, Lenovo, Panasonic and Toshiba. Once Absolute Software is notified that a ComputraceOne equipped laptop is stolen, the ComputraceOne agent calls into the Absolute monitoring centre every 15 minutes to report its Internet Protocol (IP) address. With this address, the theft recovery officer produces an evidence pack to give to the police, they in turn contact the Internet Service Provider (ISP), which is able to identify the address of the person using the stolen laptop allowing the police to recover it.