Three-year-old boy seriously injured in e-scooter hit-and-run
A three-year-old boy suffered serious injuries in a hit-and-run crash involving an e-scooter.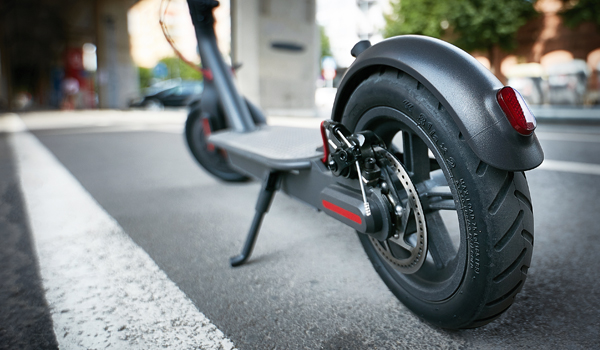 The youngster was walking with his grandmother on a pavement in Feltham, West London, when he was hit from behind, the Metropolitan Police Service said.
He was taken to hospital, where he was found to have suffered two broken collarbones. He has since been discharged.
The rider fell from the scooter on impact, but re-mounted and rode away without stopping.
Police are appealing for witnesses to the incident, which occurred in High Street near the junction with Manor Lane at 6pm on Saturday April 17.
It emerged last month that e-scooters have been used in hundreds of offences, including assaults, burglaries and anti-social behaviour.
Private e-scooters can only legally be used in the UK on private land, but are becoming a common sight on roads and pavements in many urban areas.
Charity Guide Dogs has called for the sale of e-scooters to be banned, describing their use as "a serious safety issue for many people with sight loss" and urging "robust enforcement measures to prohibit their use on pavements".
Trials of hire schemes have been permitted in cities across Britain since July last year, but no scheme is operating in London, where the hit-and-run occurred.
According to retail giant, e-scooters were becoming increasingly popular as an alternative to public transport, with around one in seven adults owning one.
Earlier this year the company launched a petition to call for a change in the law to allow e-scooters to be ridden on public roads. A survey of 2,000 adults showed around two in five were in favour of e-scooters, with the advantages of using them to commute including avoiding congestion, saving time on parking, and saving money.
Halfords said its poll suggested that if e-scooters were legal to ride on public roads, one in three adults would consider using them for shorter journeys, while almost as many might swap their car for one.
Paul Tomlinson of Halfords said: "Our petition calls for the Government to legalise the use of all e-scooters on public roads and for the UK laws to catch up with the rest of the world.
"They are legal and allowed on the streets of many countries across Europe and the rest of the world. Any new regulations should deliver safer roads, and ensure that e-scooter road users behave responsibly and with due care and attention, but the current blanket ban on e-scooters does not offer this.
"Their safe use has the potential to change the way we travel and can help address pollution and congestion problems. The Government has already recognised the potential for this with the introduction of rental trials."