Thames Valley goes digital
Thames Valley Police has completed its change-over to digital camera imaging.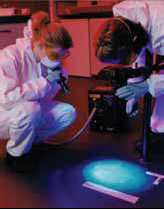 Thames Valley Police has completed its change-over to digital camera imaging.
The Force now uses digital technology in their helicopter, surveillance, road policing and SOCO activities. It has invested around £260,000 to retrain officers using photographic equipment and issued them with more than 200 new Nikon and Canon digital cameras.
In 2003, the Collision Investigation Unit, part of roads policing, who are responsible for analysing the scenes of traffic collisions, was the first department to be issued with new digital cameras. Since then the Chiltern Air Support Unit, which operates the Force helicopters, the Scenes of Crime Unit and officers carrying out surveillance operations have made the change.
Evidence gatherers operating for the Public Order Department completed their training in their new equipment recently, in time for the G8 summit, and are the final unit to be provided with new digital equipment.
Tonja Fritz-Johnson, Photographic Manager, based at the Headquarters in Kidlington, said, "Thames Valley Police began to upgrade its photography equipment in 2002 after an extensive period of research to ensure quality and that certain procedural issues regarding the integrity of evidential images were satisfied. Since then we have never looked back and have been fortunate that significant investment has been made by this Force into digital technology.
"Digital technology has had significant benefits to the Force and ultimately to the people of Thames Valley that it serves and it is to all the staff's credit that they have so rapidly become proficient with the new techniques and equipment required.
Other benefits of the technology include the ability to take video and to make 360 degree crime scene images for evidential and briefing purposes."
Thames Valley has also announced that it has completed the first stage of upgrading its Airwave radio system and is now part of a regional cluster of 11 other Forces now able to communicate directly via the system.
Mike Sanders, Airwave Project Manager, said, "Apart from the immediate benefits of clarity, coverage and security, the inclusion on a network of other Forces will further improve this service. Most importantly, our ability to communicate with an officer from a neighbouring force will mean that cross-border incidents and investigations are easier. For instance, incidents on the M1 at the border with Northamptonshire Police will be handled far easier than before."