Terrorists to be monitored for 25 years after release under new Bill
Terrorists convicted of serious offences will face a minimum of 14 years imprisonment and could have their movements and activities monitored for up to 25 years after release under a new Bill being introduced into Parliament today (May 20).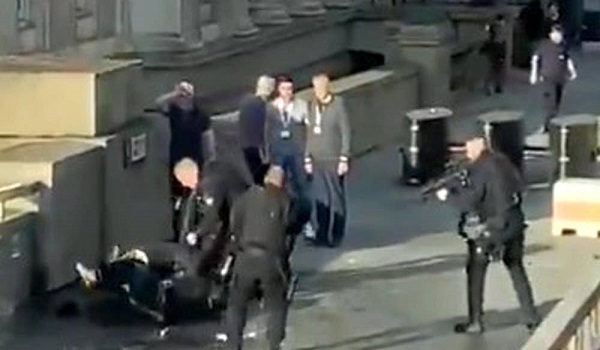 The new Serious Terrorist Sentence will apply to those convicted of offences "where there was a likelihood of multiple deaths". Those only suspected of involvement in terrorism could have indefinite restrictions on their movements.
The Bill will end early release for terror offenders who receive Extended Determinate Sentences, where the maximum penalty was life, and force them to serve their whole term in prison.
The Bill would also lower the standard of proof to impose Terrorism Prevention and Investigation Measures and remove the current two-year limit that applies to them, meaning suspected terrorists could have their movements restricted indefinitely.
Introduced in 2011, the orders allow security services to monitor people they believe to be involved in terrorism but who cannot be prosecuted or deported. They can restrict suspects' ability to travel overseas, or make them live under an enforced curfew or electronic tagging. Only five are currently in effect.
Under the new Bill, the Home Secretary would need only "reasonable grounds" that someone is involved in terrorist activity to impose one, rather than on the balance of probabilities as at the moment.
Suspects would have to register all electronic devices at their house, not just their own, and could be subject to lie detection and drug tests.
The Bill follows emergency legislation passed in February, which retrospectively ended automatic early release for terrorist offenders serving standard determinate sentences. This forced them to spend a minimum of two-thirds of their term behind bars before being considered for release by the Parole Board.
The introduction of the legislation, initially due in March, has been delayed by the coronavirus pandemic.
Justice Secretary Robert Buckland said: "Terrorists and their hateful ideologies have no place on our streets. They can now expect to go to prison for longer and face tougher controls on release.
"From introducing a 14-year minimum for the most dangerous offenders, to putting in place stricter monitoring measures, this government is pursuing every option available to tackle this threat and keep communities safe.
"The Bill will also allow the courts to consider if any serious offence is terror-related, for example, an offence involving firearms where there is a proven terrorist connection, and allow tougher sentences to be imposed. This would rule out any possibility of a serious terror offender being released automatically before the end of their sentence."
Home Secretary Priti Patel added: "The shocking attacks at Fishmongers' Hall and Streatham revealed serious flaws in the way terrorist offenders are dealt with. We promised to act and today we are delivering on that promise.
"Those who senselessly seek to damage and destroy lives need to know we will do whatever it takes to stop them."
Key measures of the Bill include:
A new 'Serious Terrorism Sentence' for dangerous offenders with a 14-year minimum jail term and up to 25 years spent on licence;
Ending early release for the most serious offenders who receive Extended Determinate Sentences – instead the whole time will be served in custody;
Increasing the maximum penalty from ten to 14 years for a number of terror offences, including membership of a proscribed organisation;
Ensuring a minimum period of 12 months on licence for all terror offenders as well as requiring adult offenders to take polygraph tests;
Widening the list of offences that can be classed as terror-related to ensure they carry tougher sentences; and
Boosting the monitoring and disruption tools available to the security services and counter-terrorism police, by strengthening Terrorism Prevention and Investigation Measures and supporting the use of Serious Crime Prevention Orders in terrorism cases.
Counter Terrorism Policing's senior national coordinator, Deputy Assistant Commissioner Dean Haydon, said he supported the proposals: "This Bill would ensure dangerous terrorists serve sentences proportionate to their crimes, as well as bolster our ability to monitor those in the community who might still pose a threat.
"Counter Terrorism Policing support changes in legislation which would increase our ability to protect the public, but this can only work effectively if used alongside a whole society approach aiming to reduce that threat in the long term.
"The new powers in this Bill would only be used against a small number of the most dangerous terrorist offenders, and we need to focus just as much attention on the only strategy which attempts to divert people away from violent extremism altogether – Prevent.
"Whether Prevent is attempting to stop someone following a path towards terrorism, or hoping to rehabilitate and de-radicalise those who have already been convicted, it is our best hope in reducing the threat in the long term.
"Which is why I am pleased this Bill would also allow the Independent Review of Prevent the time it needs to carefully consider all angles of the debate surrounding the strategy, and hopefully deliver an outcome which will strengthen our first line of defence against terrorism."
Jonathan Hall QC, currently leading an independent review of the way different agencies investigate, monitor and manage terrorist offenders, said the latest changes would "roll back the years" to the more restrictive control order regime, introduced under the Labour government in 2005.
He told the BBC: "They would leave individuals with less protection than they currently have – and the first question is, what is the operational case for making these changes? What is wrong with the current regime? Given the nature of these changes, there is a persuasive burden to explain why safeguards which have been built up over the years should now be lost."
Shadow Justice Secretary David Lammy said Labour would "look in detail" at the proposed changes in the Bill, adding that sentencing laws needed updating. He said the party would "work constructively" with ministers on "measures that reduce the chances of those who commit terrorist offences from reoffending".