Teenager who wanted to 'die like a martyr' jailed for terrorist offences
An 18-year-old who shared graphic terrorist videos online and stockpiled instructions on bomb making and knife attacks has been jailed for three years and four months.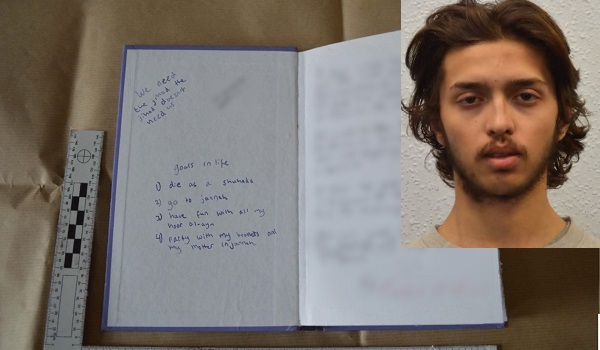 The investigation into the activities of Sudesh Amman began on May 16 when a blogger from Holland published a screenshot of a photograph that had been sent using the Telegram chat app. The image showed a knife and two guns on top of an Islamic flag, with the caption "Armed and ready April 3" overlaid in Arabic. 
Amman was arrested at his home in the early hours of May 17, less than 24-hours after the image had appeared online. Forensic specialists from the National Digital Exploitation Service, based within the Metropolitan Police Service (MPS), then set about trawling through almost ten terabytes of data found on his laptop, mobile phone and other digital devices to identify his numerous crimes. 
They recovered in excess of 349,000 media files from Amman's digital devices, including manuals on combat techniques, knife fighting and bomb making. The specialists also sifted through more than 180,000 lines of chat on Skype, identifying that he had shared four links to videos depicting graphic violence by Daesh. 
Acting Commander Alexis Boon, head of the MPS Police Counter Terrorism Command, said: "My officers rapidly identified Amman as the person who sent the photo, then acted quickly to locate and arrest him. They recovered a plethora of evidence which not only proved Amman's criminality but demonstrated the worrying extent of his terrorist mind set." 
Specialists also retrieved messages Amman had sent to his girlfriend and family which supported the analysis. These messages included online chat conversations in which Amman told her and a friend of his hatred for "kuffars" (non-believers), his allegiance to Daesh and his wish to carry out a terrorist attack. In one message he even encouraged his girlfriend to behead her own "kuffar parents". 
Officers found that Amman had sent similarly extremist messages to members of his family via a Whatsapp group, including one in which he told them "radicalising is not wasting time". 
When searching his address – where he lived with his mother and younger siblings – detectives recovered the knife believed to have been the one in the Telegram photo from the kitchen cupboard. They also recovered a BB gun like the firearm in the Telegram post, which had been painted black, giving it the appearance of a handgun. 
Acting Commander Boon continued: "Through the evidence officers recovered, we were able to show the court that Amman had a fierce interest in violence and martyrdom. His fascination with dying in the name of terrorism was clear in a notepad we recovered from his home. Amman had scrawled his 'life goals' in the notepad and top of the list, above family activities, was dying a martyr and going to 'Jannah' – the afterlife. 
"It's not clear how Amman became radicalised but it is apparent from his messages that it had been at least a year in development. Whatever the circumstances, this case is a reminder of the need to be vigilant to signs of radicalisation and report it." 
Amman was convicted and sentenced at the Old Bailey for six counts of collection of information of a kind likely to be useful to a person committing or preparing an act of terrorism and seven counts of dissemination of terrorist material.