Teenager jailed after armed struggle with officers in petrol station drama
Two officers were hailed as heroes after wrestling a loaded gun from a teenager during a stop and search at a petrol station.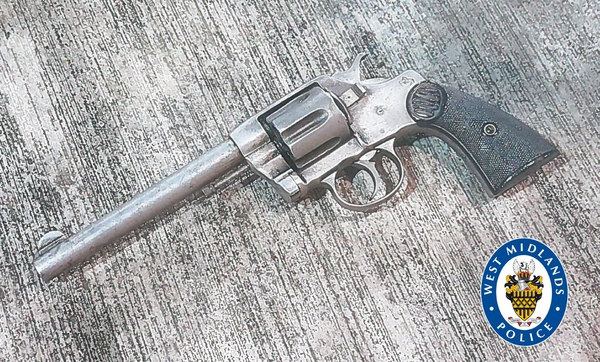 Two officers were hailed as heroes after wrestling a loaded gun from a teenager during a stop and search at a petrol station. The teenager had the gun hidden in his waistband but was arrested as he tried to flee from the police constables who had discovered the Colt.41 revolver. The drama unfolded when officers, who were in the area following reports of a robbery, spotted a blue BMW driving into Asda in Queslett, Great Barr and park next to a pump. The driver got out to fill up the vehicle and an officer who was approaching the car smelt cannabis. Officers checked the BMW, which was carrying three people, for drugs but as a 16-year-old was being searched with his hands on the car roof, an officer felt what he thought was a gun in his waistband. He called to another officer 'Gun!', and the teenager tried to flee but slipped and fell. The officers restrained the teenager and a Colt .41 revolver loaded with five live rounds of ammunition was pulled from his trousers. The teenager was found guilty of possession of a firearm and ammunition and sentenced to three years custody at Birmingham Crown Court. Officers from West Midlands Police presented evidence and intelligence linking the youngster to a number of other crimes in the area. He was handed a criminal behaviour order lasting three years which bans him from associating with a number of named criminals, having multiple mobile phones or having any vehicles that he has not told police about. He is also banned from parts of north Birmingham and Great Barr. The two other men in the car were dealt with for possession of a knife and possession of cannabis following the arrests, which happened in the early hours of November 15 last year. Detective Constable Ian Leech said: "Thanks to excellent police work and the bravery of these officers, a loaded gun has been taken off the streets of the West Midlands. "Gun crime is a priority for West Midlands Police and our officers work tirelessly to pursue those who think it's acceptable to use or carry firearms." Last year, the force recovered 144 illegal firearms. Officers are also carrying out targeted patrols in areas which have been affected by gun crime, as well as working with the community to gather intelligence on those involved. The court case came just 24 hours after the Office for National Statistics said rising knife and gun offences have fuelled a 14 per cent increase in police recorded crime – reaching 5.3 million. Recorded knife crime rose by more than a fifth while gun crime increased by 20 per cent – with most offences clustered in London and other major cities such as Birmingham.