Technology companies step in to help combat the spread of coronavirus
Three technology companies are offering their services free of charge to the police and other emergency services to support the UK response to Covid-19.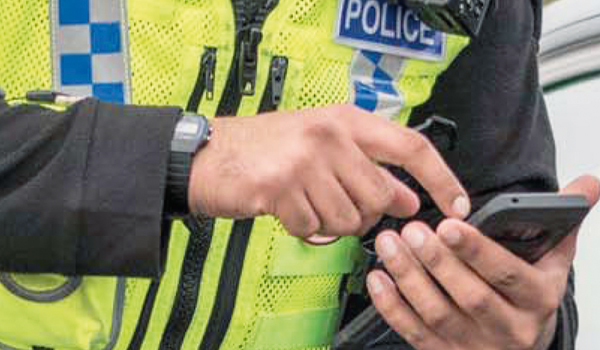 Body-worn video supplier Axon is offering "emergency" free access to its digital evidence tools for police forces in England and Wales. It means first responders can now use the Axon platform to collect, manage and share digital evidence while maintaining social distancing.
Video consultation firm Refero is giving free access to its video call platform that can connect frontline services with the public "in the safest way possible".
While Anyline, the Austrian-based provider of document intelligence technology, is waiving its fees for smartphone-based scanning software to enable faster ID checks.
Axon said today (March 30) that in the interest of public health it is providing "access to the full feature set of Axon Citizen and Axon Communities software to police forces across England and Wales at no cost this year".
It added: "This is being offered to every force that is not currently using the digital evidence platform. This means that officers working on the front line can gather digital evidence from the community by sending a personalised link via text message or email from Axon's digital evidence management platform, Axon Evidence, or the Axon Capture mobile app. This eliminates the need for in-person interaction and helps to minimise officer exposure to Covid-19."
Whether officers are being asked to stay home or respond to calls in their area, Axon says this will allow officers to continue to do their jobs while still maintaining social distance.
"Providing widespread access to Axon Citizen will enable more forces to realise the benefits of securely collecting, managing and sharing digital evidence on one platform," added Axon.
Axon's chief executive officer and founder Rick Smith said: "Our mission has always been to protect life. By enabling virtual evidence collection, we can immediately help first responders and public safety officials reduce their exposure to Covid-19.
"We're providing forces around the world open access to Axon Citizen during this crisis so officers can avoid collecting digital files in person."
He said officers typically interact with members of the public to collect digital evidence like photographs, videos or other data, but during the current period of social distancing, these interactions for non-urgent evidence collection can put officers and citizens at risk. Axon Citizen allows officers to collect and manage community evidence from a mobile or desktop device.
Superintendent Matt Kennerley of Cumbria Constabulary, currently one of the largest users of Axon Citizen for officers and the first UK police force to deploy Axon's public evidence submission tool agency-wide, said it was a "simple to use system that has been incredibly effective in digital media investigations".
Axon stressed this was an "emergency measure" intended to help public safety forces deploy the Axon mobile evidence sharing platform to assist with social distancing measures that are critically important both to slowing the spread of the pandemic and to minimising officer exposure potential on duty. "This does not imply discounts, retroactive or prospective, to existing service contracts," it added.
Learn more at www.axon.com/joinforces.
Refero says its video consultation technology will have police officers, emergencies services, the Armed Forces and other civil servants engaging with citizens within hours, remotely, via mobile and desktop devices.
"The platform can be used to connect those on the front line directly with citizens, and provide an alternative, safe environment to people who need support very quickly, without face to face meetings," it said.
Public sector teams across the UK will be able to access the service free for at least 90 days.
Dan Worman, chief executive officer of Refero, explained: "It's very important that the public have access to public sector professionals in the safest way possible for all of us, and video consultation is absolutely the best way to provide that. We feel very strongly that access to this should be immediate and free of charge to public services that are facing increased pressures currently. This is a social and moral decision by Refero, not a business one. Please get in touch if you need our help."
Interested teams should email covid-19@refero.uk.
Anyline says that as police, border control, healthcare and logistic forces "scramble to set up new checkpoints at unprecedented speed", it has seen an almost 50 per cent increase in searches from police and government departments looking to find a way to scan passports, ID and vehicles from a smartphone.
It was this that prompted Anyline to waive its fees for smartphone-based scanning technology for frontline services to help limit the spread of coronavirus.
Anyline said its software can be implemented in as few as two days. It enables police to instantly identify people by scanning IDs, passports, visas and driver's licences, all without having any physical contact with the person or item. Vehicles and freight can also be inspected by scanning numberplates, vehicle identification numbers (VIN) and container numbers.
"As police and border forces move to restrict travel around the world, there is an urgent need for mobile technology to enable faster ID checks at land, sea and air borders so that unnecessary travel is halted, while vital supply chains remain open," said Anyline.
"Similarly, healthcare workers also require contact-less registration services to limit the chance of becoming infected by patients with Covid-19 symptoms.
"In response, Anyline will enable emergency and security services, as well as logistics companies, to roll out its secure scanning technology to the smartphones of staff working at the front line. This will enable healthcare providers to record patient information in seconds by scanning their details, and give security forces the ability to check passports, IDs, driver's licences and vehicle licence plates at national borders."
Anyline says it will offer its technology free of charge to frontline services and non-governmental organisations "until the virus is controlled and restrictions are lifted". During this time, support will also be provided so that the technology can be implemented within hours onto the websites or apps of users.
Anyline chief executive officer Lukas Kinigadner said: "We all need to play our part to ensure this terrible virus is controlled. In the tech community, we have many tools that can support our frontline services and make their vital work easier and safer.
"That is why we are offering police, border security, health workers and logistics companies the opportunity to use our technology free of charge for as long as needed to bring Covid-19 under control."
Using the latest artificial intelligence technology, Anyline enables any mobile device to process written characters in real time, even when offline.
Anyline mobile scanning is General Data Protection Regulation compliant, processing all data collected securely on the users' device, and removing any chance of data interference. Anyline says it is not only more accurate than manual data entry, but also works 20 times faster.
More than 100,000 officers worldwide use Anyline solutions on their mobile policing apps, including police and border forces in Austria, Germany, Australia and soon, Gibraltar.
For further details email michael.wilkinson@anyline.com.