Taser use 'justified' in protecting the public
The vast majority of Taser use by officers in Scotland in the past year has been found to be necessary, proportionate and justified, according to the Police Investigations and Review Commissioner (PIRC).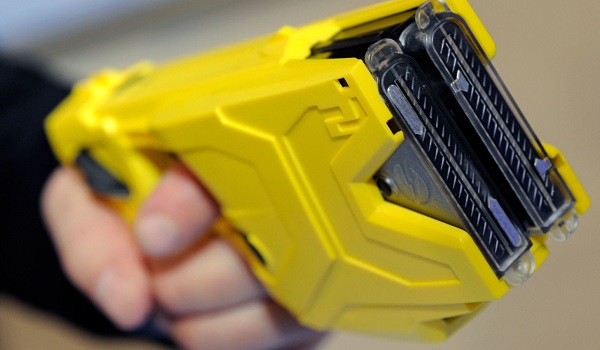 PIRC investigations also found that one third of all Taser uses referred throughout the year related to incidents involving self-harm or circumstances where officers were aiming to protect people who were mentally or emotionally disturbed and posing a serious threat to themselves or others.
The findings were detailed in the PIRC's 2018/19 annual report, which featured analysis of 34 uses of Taser, for which referral to the independent scrutiny body is mandatory. Seven of those incidents were investigated fully, and all but one found to be appropriate in the circumstances.
Head of Investigations at PIRC, John McSporran, said: "In the vast majority of incidents where Tasers were used by specially trained officers, it has allowed them to resolve incidents swiftly, increasing officer and public safety, which is very reassuring.
"Moreover, our findings show a large number of occasions where officers have used Tasers in order to limit or prevent self-harming by people suffering from mental health issues, and in some cases have potentially prevented deaths."
The report, the last to be produced by Commissioner Kate Frame before her five-year term in office ended in June and published this month, also highlighted a vast increase in workload for the PIRC and a call for further reform to complaints handling and investigations.
Despite receiving a substantial increase in budget in 2018/19, the dramatic rise in referrals seen in previous years continued, leading to 86 per cent more investigations being conducted by PIRC staff during the period of the report.
The number of investigations referred from both the Crown Office and Procurator Fiscal Service (COPFS) and Police Scotland more than doubled. Notably, the COPFS alone directed 36 investigations, equalling the total number of investigations received from all referring agencies in the previous year.
Cases directed by the COPFS included: four deaths in custody; 11 deaths following police contact (up from three the previous year); and 21 investigations into allegations of criminal behaviour by officers (up from ten in 2017/18).
The number of investigations resulting from a referral by Police Scotland also more than doubled, from 14 to 30.
However, in contrast to 2017/18, when several investigations were ongoing into alleged misconduct by senior officers, including the chief constable, the Commissioner did not receive a single referral about an allegation against a senior officer from the Scottish Police Authority.
There was also a 12 per cent reduction in the number of complaint handling review (CHR) applications received (from 291 to 258). Ms Frame said this reduction may signify greater public satisfaction with the way in which Police Scotland dealt with their complaints, however, of the applications received, it was disappointing that less than half of the complaints had been reasonably handled by the police.
Ms Frame, who was replaced in August by Michelle Macleod, said she hopes a review of complaints handling by Dame Elish Angiolini will lead to a change in powers for PIRC investigators and a wider remit to examine the role of retired officers.
She added: "As my five-year term as Commissioner draws to a close, I recognise that I have been privileged to lead the organisation through a period of profound change in policing and unprecedented demand for the independent scrutiny of police actions.
"Our current operating model was established with some degree of haste in the wake of the decision to form a single Police Service of Scotland in April 2013. Experience over the six years since then has convinced me that further fine-tuning of our remit and powers would be beneficial. I am hopeful that, as the organisation moves forward into the next phase, there will be further necessary refinement to the independent police oversight framework."