Taser funding recognises officer 'safety, dedication and loyalty'
The Home Office has ring-fenced £10 million to provide Tasers to frontline officers in England and Wales but the money could go unclaimed as forces are already increasing the number deployed.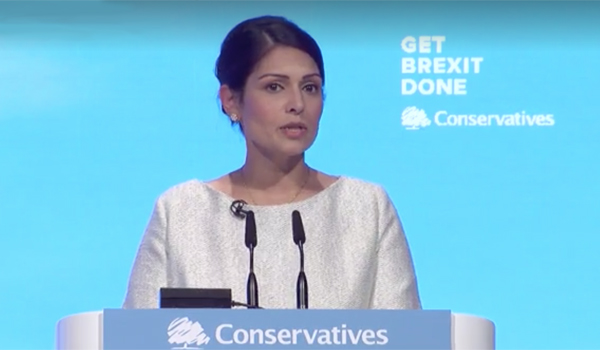 The Government believes the funding could increase the number of officers carrying Taser by 10,000, however, the National Police Chiefs' Council (NPCC) said the decision to deploy the devices is an operational choice of chief constables, who have already increased their availability based on assessments of risk and threat.
A review of officer safety, commissioned by the NPCC following the death of Police Constable Andrew Harper and a number of serious assaults in August, is ongoing.
Several forces unilaterally announced they were using core funding to provide Tasers to every frontline officer who wants to carry them. Others have increased their availability but taken a more cautious approach to their rollout.
Tasers remain controversial despite the rigorous training for officers and gradual rise in deployments since they were first introduced in the UK in 2003.
In 2018, Avon and Somerset Constabulary's Acting Sergeant Claire Boddie was found not guilty of assaulting a 64-year-old race relations adviser in Bristol after discharging a Taser to his face. She was attempting to arrest him after mistaking his identity for a wanted man.
Communities in the city are highly sensitive to the devices. The force has increased the number of officers who can use Tasers but will not be issuing them to every frontline officer, basing its deployment on careful assessment of risk and threat instead.
A Home Office spokesperson said the new funding announced on Friday (September 27) would be made available for chief constables to bid for until September 2020.
At its annual conference on Tuesday (October 1), Home Secretary Priti Patel set out her goal of making the Conservative Party the party of law and order.
After visiting Thames Valley Police the day after the brutal killing of PC Harper, Ms Patel said she was inspired by officers' determination to carry on and seek justice.
"Their safety, dedication and loyalty is what I think of every single day", she said.
"I am equipping them with the tools and the kit to protect themselves and others from harm."
Ms Patel also promised to make sentences harsher for anyone assaulting officers.
"I've been completely appalled by the recent spate of serious assaults on police officers, which is why I'm giving chief constables the resources to dramatically increase the number of their officers who carry Tasers," she added.
"They keep us safe and now I'm giving them what they need to keep themselves safe on the job.
"Taser is an important tactical option for police in potentially dangerous situations."
NPCC chair Martin Hewitt said: "I of course welcome any new investment into policing. Officer safety is an absolute priority for all chief constables. In response to the rise in assaults on officers, I have recently commissioned a full review into all aspects of officer safety – ranging from training and equipment to officer welfare when an assault occurs and what more can be done to ensure appropriate criminal justice outcomes.
"Taser is an important tactical option for officers but is not the answer to all violent or threatening situations. Its use is regulated by strict standards and is conditional on the completion of a rigorous training programme.
"Forces across the country are already increasing the number of Taser trained officers. Decisions on the deployment of Taser are part of the operational responsibilities of chief constables and their decisions are based on the assessment of the particular threat, risk and harm within their force area."
The Police Federation of England and Wales (PFEW) declared a victory in its dealings with the Home Office. It has campaigned to get Tasers issued to all officers this year and a recent poll for the staff association found 94 per cent of officers think Tasers should be issued to more frontline staff.
PFEW chair John Apter said: "I have been campaigning tirelessly for many months for Taser to be funded centrally so this is a significant win for us and our members.
"The Home Secretary recently said that her top priority is the safety of police officers, so it is heartening to know our call for ring-fenced funding for Taser has been heard and I welcome such positive and decisive action.
"Officers are telling me daily they are feeling vulnerable and often isolated due to the lack of this vital protective equipment which has saved the lives and prevented serious injuries; this is why I felt so strongly that all officers who want to be trained and carry Taser should be able to."
He added: "The Home Secretary has listened and she has acted, this is absolutely the right decision for my members and for policing.
"Chief officers now have ring-fenced funding available to ensure their officers and the communities they serve are safer."