'Systemic deficiencies' in police response to domestic abuse allegations against officers and staff, report finds
There are "systemic deficiencies" in the way some police forces in England and Wales deal with allegations of domestic abuse against their own officers and staff, an investigation has found.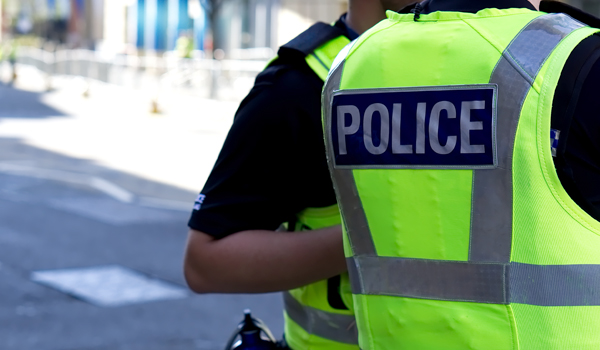 The inquiry into a super-complaint submitted by the Centre for Women's Justice (CWJ) in June 2020 is the most extensive investigation to date in England and Wales into police perpetrated domestic abuse.
And Victims' Commissioner Dame Vera Baird QC says it identifies "clear and alarming failings in how police respond to these cases".
Conducted by the College of Policing, Her Majesty's Inspectorate of Constabulary and Fire and Rescue Service (HMICFRS) and the Independent Office for Police Conduct (IOPC), it found some forces were not doing enough to take account of the specific needs of domestic abuse victims when the suspect works for the police, nor were they consistently "going the extra mile" to show that they understand the importance of protecting and demonstrating the integrity of the police response.
And some did not recognise the unique barriers to reporting if the victim also works for the police.
"Misconduct investigations are not always being carried out when they should be or conducted appropriately," said the College of Policing. "Allegations of domestic abuse offences against police officers and staff should be reviewed and usually investigated by force professional standards departments. We have recommended chief constables address this immediately.
"We did not find evidence that these investigations were conducted less well than other domestic abuse investigations with the charge rate found to be similar, although this is in the context of a police response to domestic abuse, which still needs to improve across the board.
The investigation examined case studies submitted by the CWJ, as well as 56 domestic abuse cases where police officers and staff were suspects. The outcome data for 149 domestic abuse allegations from 2018, involving suspects from 15 police forces, was also investigated. Fourteen of these allegations (nine per cent) resulted in a criminal charge. However, ten of the 15 forces had no cases at all that resulted in a charge, and nine of the 14 cases charged were with just with forces.
"This suggests highly inconsistent approaches between forces," said the CWJ.
The legal charity says other concerning failings identified included:
Only six out of 104 women who reported police perpetrated domestic abuse would feel confident to report again;
39 per cent of the files reviewed of criminal investigations were inadequate;
Only 40 per cent of cases of police perpetrated domestic abuse reported resulted in any misconduct investigation – 75 cases from a sample of 122 were not sent to Professional Standards; and
Only eight cases out of the sample of 122 were referred to the IOPC.
The investigation found that safeguards to ensure and demonstrate the impartiality of investigations and decisions when the suspect worked for the police were not consistently applied.
It identified several recommendations and actions to better protect and support victims and to improve the quality of investigations, including:
Chief constables should audit all live allegations of domestic abuse against officers and staff and investigations closed within the last year;
Police forces should have plans in place to ensure cases of police perpetrated domestic abuse are investigated by someone with no prior connection to any of those involved in the allegations, including consideration of transferring cases to another force where necessary;
Police and crime commissioners, the Ministry of Justice and chief constables should ensure that their provision of domestic abuse support services and guidance can meet the specific needs of victims of police perpetrated domestic abuse; and
National guidance to be clearer on the unique risks and challenges of domestic abuse allegations against staff.
The IOPC will now carry out a targeted programme of oversight work into the force handling of these cases. It will make this a main focus of its wider work on violence against women and girls.
Dave Tucker, head of Crime and Criminal Justice at the College of Policing, said: "This is the most thorough review ever undertaken of how police respond to domestic abuse cases involving their own staff and during our investigation we heard harrowing stories from victims about the abuse they had experienced, and the further harm caused to them by a poor response from policing.
"Our recommendations will significantly improve the police response to these allegations, so that victims of domestic abuse know they will be properly protected, receive a high standard of care and a good investigation – regardless of who the suspect is. I am encouraged to see many forces already taking steps to address the issues we found.
"During the investigation we also found examples of dedicated and committed police officers working incredibly hard to get victims justice. To support them as best as possible the College of Policing will review and improve our guidance and training, so it considers the additional risks when a suspect is part of the police workforce."
Kathie Cashell, IOPC director for Strategy and Impact, said: "We hope that victims of domestic abuse will feel reassured that, as a result of this super-complaint investigation, a spotlight has been shone on the police response to police perpetrated domestic abuse, which will now be subject to greater scrutiny.
"The IOPC will be carrying out a programme of work to ensure police forces understand their obligations to handle these matters in line with police complaints legislation, and that, when appropriate, police officers and staff are held to account through the disciplinary system.
"We are clear in our report that we found examples of good practice, and our findings will not necessarily be reflective of police forces' handling of every allegation. However, we urge all forces to use the findings and recommendations in this report to do more to ensure they can demonstrate these serious allegations are being handled robustly, and without fear or favour."
Her Majesty's Inspector of Constabulary Roy Wilsher added: "Domestic abuse is a terrible crime and it's natural that when such abuse is perpetrated by police officers and staff, the public want to know that cases are being investigated thoroughly. While many forces are already taking steps to do this and most police officers act with the utmost integrity, we found that not all forces are treating these cases with the gravity they deserve, and that is not good enough.
"This is an issue that has been overlooked nationally in the past. I hope our recommendations today will encourage forces to recognise the risk to integrity and public trust that these cases can cause, and act now to ensure they are providing the right support to victims."
The College of Policing said the recommendations and actions published today (June 30) will build on changes already being made by police forces, support a more effective system that protects victims of domestic abuse perpetrated by police officers and helps to ensure that allegations are dealt with appropriately as criminal and disciplinary matters.
In its super-complaint, the CWJ submitted case studies where victims of domestic abuse at the hands of police officers and staff had felt dissatisfied, failed and, in some cases, further harmed by the poor police response
During the investigation the college, HMICFRS and the IOPC reviewed the evidence presented by CWJ and held discussions with victims who had reported being abused by police officers or staff, as well as with retired and currently serving officers working on these cases, charities and support groups
The CWJ said the findings confirm "many of the concerns" raised in its police super-complaint submitted in March 2020 based on 19 case studies and six accounts from domestic abuse workers.
It added: "CWJ has now been contacted by 165 women whose accounts include not only failures to investigate but also conduct amounting to corruption and, at its worst, the criminalisation and victimisation of some victims who report.
"While the super-complaint outcome report has not found substantiated evidence to prove corruption and collusion in the police files they examined, some of their evidence clearly suggests it exists, and they accept that the absence of objective evidence does not mean the practice or harm is not occurring."
The CWJ super-complaint highlighted 11 "overarching concerns or 'themes'" relating to how forces respond to cases of police perpetrated domestic abuse:
Difficulties in initial reporting;
Failures in investigation;
Improper manipulation of police processes;
Improper responses to complaints/concerns;
Accused officers' personal links with others in the force;
Accused officers using their police knowledge, status and powers;
Improper decisions on criminal charges;
Incorrect approach to misconduct investigations and decisions;
Abused women arrested;
Employment difficulties for women who are police officers; and
• Workplace victimisation of women who are police officers.
Despite the series of recommendations for reform made by the investigation, the CWJ says it falls short of endorsing many of its proposed improvements to the system, including referring the investigation of all reports of domestic abuse by a police officer to an external police force, although it does recommend this might be appropriate in some circumstances.
"The super-complaint report recognises the particular problems faced by police officer victims who report fellow police officers for domestic abuse, and the fact that they have fewer rights than civilian victims, especially no right of appeal to the IOPC," said the CWJ.
Harriet Wistrich, director of CWJ stated: "We are pleased that the lid is now lifted into the scandal of police perpetrated domestic abuse and the failures to tackle it.
"However, shortcomings in the super-complaint process of investigation mean that some of the most egregious accounts of corruption have not been investigated. For this reason we maintain our call for a statutory public inquiry into police perpetrated abuse."
The Victims' Commissioner said there can be "fewer greater and more fundamental breaches of duty, trust and police oaths than police perpetrated domestic abuse".
"Police have a unique position of power in our society," said Dame Vera. "When officers are sworn in as constables, they promise to serve the public and do no harm. Yet in recent years, police leaders have been accused of a failure to act against officers facing allegations of domestic abuse.
"Today's super-complaint analyses police performance and identifies clear and alarming failings in how police respond to these cases.
"Disappointingly, the inspectors' recommendations fall short in a number of areas and I fear this is yet another missed opportunity to truly reform policing in the public interest."
She added: "We know there are systemic weaknesses in the police response to domestic abuse. As today's report makes clear, this is also true of police perpetrated domestic abuse.
"Forces are routinely failing to treat police perpetrated domestic abuse allegations as police complaints and misconduct matters. Worse still, forces are frequently failing to refer cases to the IOPC – a clear and gross dereliction of duty.
"Inspectors found misconduct hearings are not being carried out when they should be and, on the occasions when they do occur, they are not nearly as robust as they should be. Indeed, so few allegations were handled as a police complaint and conduct matter that inspectors did not have enough data to estimate the number of police perpetrated domestic abuse allegations that result in misconduct outcomes. These are fundamental shortcomings that must be addressed as a matter of urgency.
"Inspectors also revealed that victim safety is not given nearly enough consideration. Forces must always be able to provide assurance and demonstrate that all risks are managed. Yet inspectors found evidence of victims saying that police officers had used their knowledge, status and powers to intimidate victims and deter them from making a report to the police.
"Cases were also closed when victims withdrew their support with no further action taken to safeguard the victim. And case files frequently omitted formal declaration of 'conflict of interests' records, leaving it unclear whether or how those working on the case knew the victim or the suspect. These failings risk not only victim safety but overall trust in policing."
Dame Vera said it was "disappointing that in the face of these clear, pressing issues, the inspectors' conclusions fall short".
She added: "With so many issues at play, I don't see how inspectors can conclude the police response to police perpetrated domestic abuse to be 'generally good'. The recommendations are a missed opportunity: convoluted in nature and lacking any concerted action for the here and now. Instead, we have promises of reviews, audits and inspections. Yet the issues are clear and the solutions even clearer.
"Police leaders must set up a national policing protocol to make inter-force arrangements with external forces. When a domestic abuse allegation is made against an officer, it should immediately be sent to an external force to independently investigate. That is the only way to ensure a good investigation.
"All the evidence suggests that the accused's force will not be able to investigate its own officers effectively and independently. This is a clear and unambiguous national solution to a policing issue of national significance.
"It is of vital importance that forces respond robustly and dispassionately when domestic abuse allegations are made against serving police officers and staff.
"We have seen only too recently and painfully how abusive behaviours can manifest when left unchallenged and in uniform. The police must never be a safe space for abusers. We must see zero-tolerance to abusive behaviours from all forces as a minimum expectation – not an aspiration.
"That requires national leadership. That requires clear, unambiguous action across all forces – in other words, a national policing protocol."
Deputy Chief Constable Maggie Blyth, Violence Against Women and Girls coordinator for the National Police Chiefs' Council, said: "We need the strongest possible response to police perpetrators of domestic abuse that recognises the risks they pose, protects victims and gives the public confidence.
"I am grateful to the CWJ for raising this super-complaint and for the thorough investigation that has followed.
"It identifies examples of good practice but also serious issues with the current police response to police officers who are accused of domestic abuse.
"Police forces are fully committed to putting this right and will act on the recommendations urgently."
The Association of Police and Crime Commissioners (APCC) said the report was "deeply concerning" and highlights fundamental areas for improvement.
APCC joint victim leads, Donna Jones and Sophie Linden, said: "It is deeply concerning that victims have been let down and, in some cases, further harmed by the police response.
"Whilst there has been progress in ensuring that victims are at the forefront of all investigations, it is alarming to learn that the same level of care and standards is not always being afforded to victims of police perpetrated domestic abuse.
"As PCCs we play an integral role in ensuring victims have access to the support they need and in ensuring they are receiving their entitlements under the Victims Code of Practice.
"Getting this right for victims is paramount and it will take a collective response. As PCCs we will ensure that forces have the effective and robust measures in place to support victims of police perpetrated domestic abuse, that risks are identified and that victims are at the forefront when implementing these recommendations."
APCC transparency and accountability deputy lead Alison Lowe added: "We are committed to ensuring that policing is transparent, accountable and commands the respect of the public, which is why this report is so important.
"The findings outlined highlight deeply concerning and fundamental areas for improvement, and it is vital these are addressed as a matter of urgency if we are to see systemic change in the way police respond and investigate police perpetrated domestic abuse reports.
"Police workforce members are entrusted with powers and responsibilities and ensuring they uphold high standards of behaviour is fundamental to public trust and confidence.  What is clear from the findings of this report is the need for police forces to respond particularly robustly and consistently considering the unique risks of having a police workforce member as a perpetrator.
"As PCCs our priority and fundamental role is to ensure the public has the upmost confidence in policing and we will play a pivotal role in ensuring the series of recommendations laid out in this report are effectively implemented so that the public are getting the service they need and deserve."