Survey to examine role sport can play in tackling serious youth violence
New research is to examine how sport can divert potential offenders from knife crime and youth violence.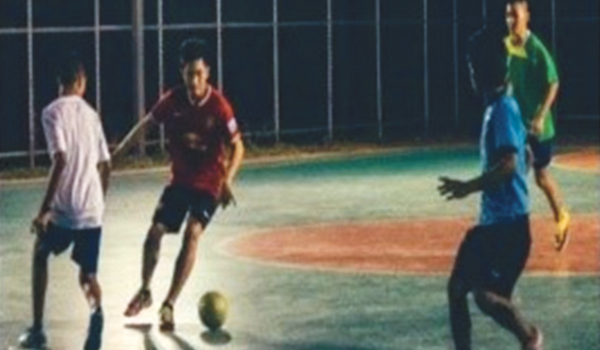 Led by Dr Holly Collison of Loughborough University (London campus), the study is seeking participants to undertake an online survey, which could be followed by an optional interview.
Loughborough University has been examining the role community sport can play in tackling serious youth violence as part of its 'Experts in Sport' podcasts, which have been running this year.
Dr Carolynne Mason, lecturer in sport management from the university's School of Sport, Exercise and Health Sciences, says young people's involvement is violence is "complex".
"We can't predict how and when they'll be involved," she explained in the podcast, a regular series that brings together experts from across Loughborough University with external thought leaders.
"We know there's a serious knife crime trend and 50 per cent of the victims are sadly under 30. It's disproportionally young males… and we're seeing more young vulnerable people being drawn into distributing drugs as older siblings recruit younger siblings."
Loughborough University has been working closely with StreetGames, a national charity that helps bring sport to disadvantaged communities, on a number of projects, including its 'Safer Together Through Sport' initiative.
Graham Helm, national doorstep sport adviser for StreetGames, has worked alongside police and crime commissioners across a number of force areas nationally to examine the relationship between sport and the wider criminal justice sector. He has also helped develop links with violence reduction units with the highest prevalence of serious youth violence.
"Strategies exist within mainstream youth engagement programmes, community engagement sport programmes and holiday programmes," said Mr Helm. "Each of these have little to no barrier for young people to participate and are universal across the likes of sport, creative pursuits and arts.
"Some of the magic these deliver – day after day, night after night – is supporting young people to stay away from a path of higher risk and exposure."
Loughborough University is a member of the East Midlands Policing Academic Collaboration (EMPAC), a cooperative network between the five forces and offices of police and crime commissioners, and university researchers, that aims to improve policing in the region through research and innovation.
---
To take part in the youth violence research survey, participants should fall into any of the following categories:
Sports coach;
Sports programme manager;
Sports club manager; or
Community project manager.
Take the survey at: https://lboro.onlinesurveys.ac.uk/sport-programme-and-knife-crime-in-london-survey
---