Surrey Police 'crying baby' advert banned
A police video designed to make people think twice about whether they should report a crying baby has been branded "socially irresponsible".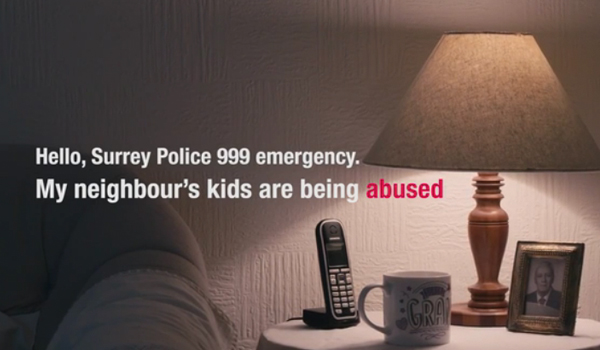 A police video designed to make people think twice about whether they should report a crying baby has been branded "socially irresponsible". Surrey Police broadcast an advert in August featuring the sound of a young child crying and alternating text describing it as 'noisy' and 'abused'. The Advertising Standards Authority (ASA) found the advert – which was intended to make people consider whether their call was a policing matter – could encourage people to not report children in danger. It ruled the advert must not appear again in its current form. Surrey Police said it is "really disappointed" in the decision as the advert had been found to meet UK broadcasting requirements before it was aired. An ASA spokesperson said: "We considered the ad was likely to be understood as discouraging viewers from reporting problems to the police unless they were certain of what was taking place. "Given the specific example used and the potential outcomes of failing to report suspected child abuse, we concluded that the ad was socially irresponsible." The advert was broadcast on August 4 as part of Surrey Police's wider campaign to educate the public about what constitutes an emergency or a non-police issue.
It was intended to be deliberately ambiguous about whether the 'child' was reacting to something going on in its home to make viewers pause for thought. A single complaint was lodged with the ASA, which found the film would likely be interpreted as discouraging people from calling 999 when they were uncertain if a child was in danger. Surrey Police receives 10,000 calls a year that do not require police involvement and are better dealt with by other appropriate authorities. The force said the campaign had been "evaluated really strongly" to prove it was responsible and effective. Research it commissioned showed 90 per cent of people understood the intention of the messaging and the same proportion claimed it had helped them differentiate between policing and non-policing matters. The number of non-emergency calls received by Surrey Police reduced by nearly nine per cent during and immediately after the campaign period. Deputy Chief Constable Gavin Stephens said the ASA's decision "contradicts their own investigator's findings". "Surrey Police has made sustained efforts to increase both awareness of, and confidence to report child abuse," he said. "This particular campaign is centred around helping educate the public about what is and isn't a policing matter. Clearly child abuse is, whereas children just being noisy isn't. "We need to ensure that the public is contacting us about concerns for safety but knows that general noise complaints are better dealt with by local authorities so that police time isn't wasted and we can instead use that time to keep people safe and investigate crime."