Suffolk officer who chased suspected armed robbers wins Eastern region Police Bravery Award 
An off-duty Suffolk Police officer who intervened in a suspected armed robbery has won a prestigious Police Bravery Award.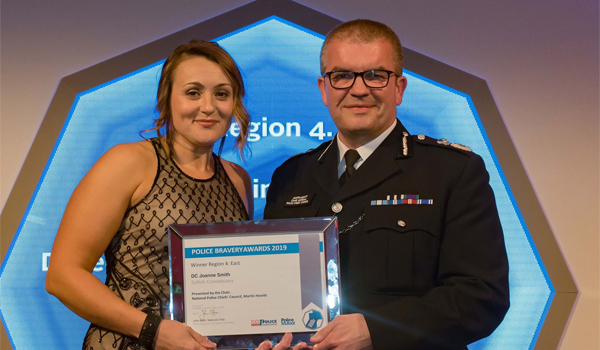 Detective Constable Joanne Smith was named as the Region 4 (East) winner at the 24th  national Police Bravery Awards on July 18.
The awards were hosted by the Police Federation of England and Wales and sponsored by Police Mutual, honouring and recognising police officers who perform outstanding acts of bravery.
Det Con Smith was off-duty when she courageously encountered suspected armed robbers. She displayed incredible bravery during the incident and chased after the suspects. More details of the case cannot be released at this stage.
Det Con Smith said: "Yes it could've had a different ending – I wouldn't say that it's changed my mind and I wouldn't do it again because I would – you don't think about it at the point you're doing it. I suppose at the time I didn't know exactly what was going on and then after the event you hear exactly what they'd done and all the details of it, and it does make you think that could've gone a different way, but it didn't.  I just dealt with it there and then as I saw it in that moment."
John Apter, National Chair of the Police Federation of England and Wales said: "Det Con Smith demonstrated outstanding courage and dedication, putting the lives of others before her own without a second thought."