Suella Braverman sacked as home secretary
Rishi Sunak has sacked Suella Braverman as UK home secretary after she was blamed for inflaming tensions over Armistice Day protests and saying police favoured leftwing protesters.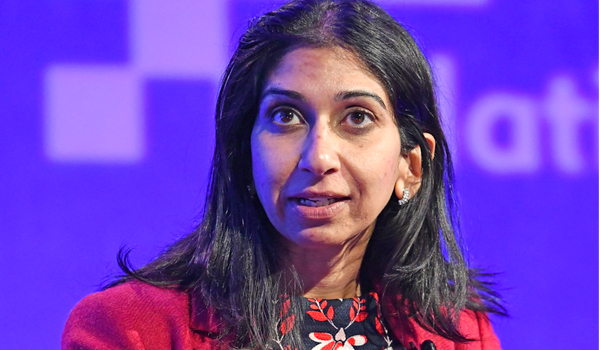 In the op-ed, Ms Braverman claimed "there is a perception that senior police officers play favourites when it comes to protesters", before claiming some current police officers have also complained about a "double standard".
She added: "Right-wing and nationalist protesters who engage in aggression are rightly met with a stern response yet pro-Palestinian mobs displaying almost identical behaviour are largely ignored, even when clearly breaking the law?"
She appeared to undermine the operational independence of the Metropolitan Police by arguing in the piece that, during the Covid-19 pandemic, lockdown objectors were "given no quarter" by police officers while Black Lives Matter demonstrators were "allowed to break rules".
Sunak was also uncomfortable with Braverman's comments on social media platform X, formerly Twitter, that homeless people living in tents had taken a "lifestyle choice".
Critics, from both opposition parties and fellow Tory MPs, called Ms Braverman's comments "offensive" and "inflammatory".
Labour accused Ms Braverman of "whipping up division" and "sowing the seeds of hatred and distrust" which caused the violence.
Sir Keir of accused Ms Braverman of "demeaning the office" of home secretary, while shadow home secretary Yvette Cooper urged Mr Sunak to get rid of her.
Labour London Assembly Member and spokeperson for policing and crime, Unmesh Desai AM said: "It is right that the Home Secretary is gone. She used her office to sow division when unity was needed more than ever. Whether that is attacks on our multicultural communities, the homeless or the independence of our police, her time in office caused more problems than it solved. She was a walking, talking disaster and Londoners will be better off without her."
"I hope that her successor can help bring together the country and support our police force."
She will be replaced by James Cleverly.
Ms Braverman's sacking comes just 13 months after she was forced to resign from the same job by former prime minister Liz Truss for a technical security breach in which she used her personal email to send information relating to government business.
Her dismissal is expected to form part of a wider reshuffle of Sunak's team, with Thérèse Coffey, the environment secretary, and Steve Barclay, the health secretary, believed to be also likely to go.
Braverman's dismissal follows weeks of controversy in which she increasingly seemed to be following her own hard-right policy agenda, with a series of controversial statements, including a much-criticised description of homelessness as a "lifestyle choice".