1,000 stolen catalytic converters recovered following national crackdown
Police forces across the nation have recovered more than 1,000 stolen catalytic converters and arrested more than 50 people as part of a joint operation to tackle catalytic converter theft.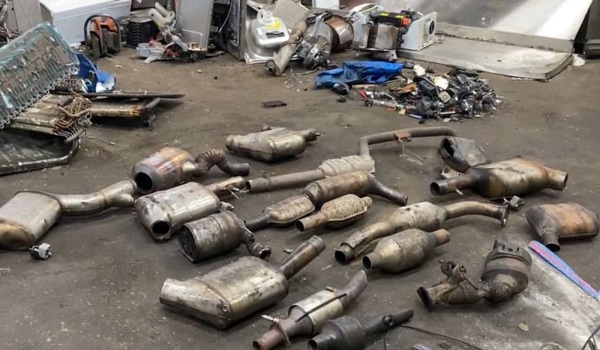 British Transport Police (BTP) coordinated the operation, codenamed Goldiron, which saw police forces join experts from the Joint Unit for Waste Crime (JUWC), led by the Environment Agency, Smartwater Group and he motor industry, to carry out synchronised enforcement action, intelligence-led site visits, forensic marking and educational events.
Catalytic converters clean harmful gases before they exit a vehicle's exhaust pipe and are stolen for the precious metal they contain. These metals have surged in value recently, leading to organised crime networks to commit more offences.
Between Monday, April 19, and Friday, April 23, officers and partner agencies:
Made 56 arrests;
Visited 926 sites (catalytic converter process plants, scrap metal dealers, vehicle dismantles and catalytic converter buyers);
Stopped 664 vehicles;
Recovered 1,037 stolen catalytic converters and 297 items of stolen property; and
Identified 244 offences
During these visits and checks, officers searched for stolen metal and examined trader's financial records to ensure they were complying with the 2013 Scrap Metal Dealers Act. The JUWC coordinated a series of waste site inspections to ensure businesses held environmental permits and met other legal requirements.
Catalytic converter marking demonstrations were also held throughout the week to educate and encourage drivers to protect their vehicles. More than 1,610 vehicles were forensically marked by officers and partner agencies.
National Police Chiefs' Council (NPCC) lead for metal crime, BTP Assistant Chief Constable Charlie Doyle, said: "The positive results from this week are testament to why it's vital we join forces to share information and specialist knowledge to disrupt those operating in this area of crime.
"By taking a multi-agency approach, we are maximising our ability to identify those who are involved in catalytic converter theft, making it harder for them to sell stolen metal and gain from their criminal activities."
NPCC lead for vehicle crime, Cheshire Police Assistant Chief Constable Jenny Simms, added: "We recognise the impact catalytic converter theft has on victims. A national conference took place in November last year to create a cross-agency plan focused on prevention and detection and this is the second week of action that has taken place since.
"Policing and law enforcement agencies will continue to focus on catalytic converter theft and ensure that this low risk/ high-reward crime is relentlessly targeted, and offenders are brought to justice. The results from this week are impressive."
Manager of the JUWC, Phil Davies, said: "This week of action is another example of how the JUWC, together with other partners and agencies, are targeting criminals who exploit the waste industry and harm the environment. Utilising the skills and expertise across agencies we will continue to identify further opportunities to impact upon waste crime."