Sponsorship sought to protect historic Mounted Section
One of Britain's oldest mounted police units will be opened to corporate sponsorship to stop it being dismantled.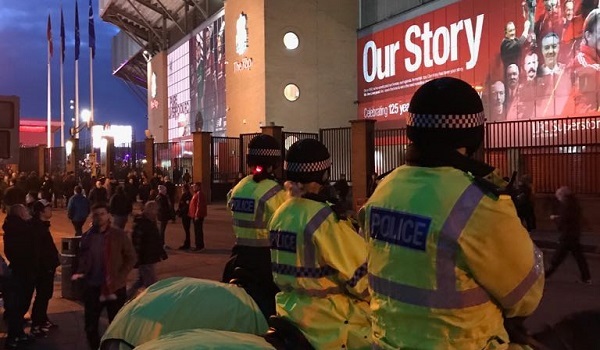 Horses in Merseyside Police's Mounted Section could wear company logos on their saddles following the launch of the force's 'Stand Tall' campaign.
Backers will also be able to adopt or name police horses them and act as their keeper for a day, host team building events at force stables, and receive hospitality at the Grand National. The scheme follows £17 million of cuts to Merseyside Police's budget over the last three years and a further £7 million in 2018.
Chief Constable Andy Cooke told the Liverpool Echo that the historic unit is not being 'privatised'.
In a statement, he added: "We are convinced of the value of keeping the horses, but significant cuts to public services have prompted us to look even more creatively at how they can continue to provide the same level of service to the public.
"Giving the Section a clearly defined brand and attracting corporate sponsorship will allow the force to maintain the department so the horses can continue to be a strong operational resource. "It will also enable us to reinvest the existing budget will be reinvested in to other areas of front line policing."
Merseyside Police's mounted section was the first of any provincial force in Britain, following the formation of London's Bow Street Horse Patrol in 1760. The unit was created by the then-Liverpool Police in 1886, and since then has policed royal visits, World Cup matches and a civic reception for The Beatles.
Mounted officers also lead the Grand National champion into the winner's enclosure. However, recent savings requirements have threatened the unit's future. Three sponsorship packages are being offered as part of the Stand Tall initiative, at 'platinum', 'gold' and 'silver' levels.
Benefits range from naming a horse and receiving a photo certificate to the ability to host corporate events at the Section's Allerton stables and having company logos on the saddles of police horses at the Grand National.
The force is also offering "a very special VIP invite" to attend a full day of hospitality at the annual event, including dinner with the chief constable. Merseyside Police is not the first force to consider sponsoring its Mounted Section – in February, Thames Valley Police began consulting on new funding streams for its own unit, including corporate or private backing.
Cleveland Police and Gloucestershire Constabulary have also explored sponsorship to protect their mounted police. Merseyside police and crime commissioner Jane Kennedy said budget cuts have necessitated the "unusual step" of seeking sponsorship.
She added: "Stand Tall is a wonderful concept which will resonate with the Liverpool city region. "I am grateful for the encouragement we have already received and I look forward to working with partners old and new as we promote the ambassadors of this amazing police force, our police horses and the officers who ride them."