Spit guards will not be issued further in the MPS
Frontline Metropolitan Police Service (MPS) officers will not be given access to spit guards despite widespread calls for their use.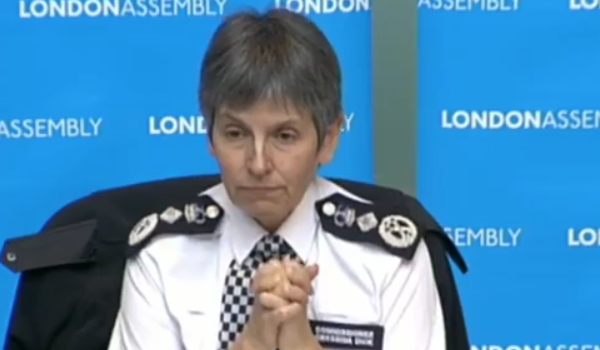 London Mayor Sadiq Khan has confirmed in a written answer to the London Assembly that MPS Commissioner Cressida Dick has decided spit guards will not be rolled out onto the streets of the capital.
The MPS currently issues the equipment in its custody suites but had been facing mounting pressure to deploy them further, including from the Home Secretary.
The chair of the London Assembly Police and Crime Committee criticised the way in which the policy decision was exposed.
MPS Deputy Assistant Commissioner Matt Twist said: "Spitting and biting is a particularly unpleasant form of assault that rightly generates a lot of concern among officers.
"Aside from the fact that as an employer the Met cannot expect its staff to be spat at, or think this is acceptable, some of the follow-up treatment required after such an assault can be prolonged and unpleasant.
"We would of course encourage officers to always report when they are assaulted including when they are spat at."
Around 37 UK forces currently issue spit guards in some capacity but not all of these give them to frontline officers.
The MPS had been piloting use of the protective equipment in several parts of the capital ahead of potentially rolling them out further.
However, Ms Dick's decision – revealed on Wednesday (August 22) – means they will continue to only be used in custody suites.
The announcement means British Transport Police officers working in London will be able to deploy spit guards but their colleagues in the MPS will not.
In May, Home Secretary Sajid Javid endorsed the use of spit guards, claiming it was ridiculous that some forces were not using them.
The Metropolitan Police Federation also recently launched a campaign asking all its members to record incidents where they are spat at to highlight the frequency of these assaults.
London's police and crime committee has promised to question Ms Dick on why the decision was not officially announced at a meeting next month.
Committee chair Steve O'Connell said: "This is a major policy decision which should not have been slipped out in this manner.
"The fact that police officers are being spat at during their duties in the first place, is frankly disgusting. This decision is an important one, that the public should be made aware of.
"The Mayor should have announced this decision fully and openly. If a busking competition deserves a public statement, then decisions on sensitive policing issues should also merit the appropriate level of transparency."