Spit guards made permanent in Northern Ireland
The Police Federation for Northern Ireland (PFNI) has welcomed the decision by the Chief Constable to make spit and bite guards a permanent part of equipment for all frontline officers.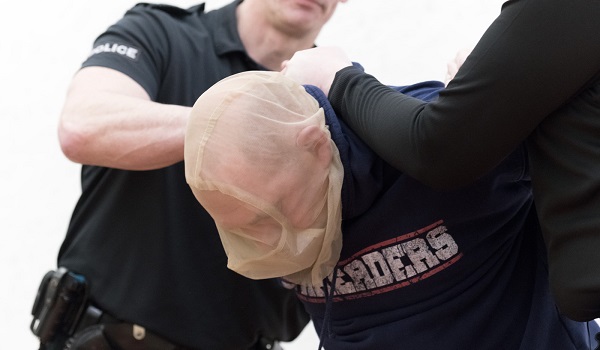 Police Service of Northern Ireland Assistant Chief Constable Chris Todd confirmed a decision had been taken to adopt spit and bite guards as a permanent tactic after they were temporarily introduced in March 2020 as an emergency measure during the coronavirus pandemic.
Their use has been opposed by human rights groups and children's charities. Mr Todd said: "After a considerable period of consultation, engagement and assessment, the chief constable has confirmed to the Northern Ireland Policing Board the decision of the Police Service's Strategic Management Board to adopt spit and bite guards as a permanent tactic for all frontline officers.
"We are acutely aware of the concerns that have been raised by the use of spit and bite guards. However, in the absence of an appropriate tactical option to deal with assaults by spitting or biting, physical restraint remains the only option when attempts at de-escalation have proved unsuccessful. In this respect, our assessment is that the continued use of spit and bite guards offers the least injurious method of dealing with these egregious forms of assault.
"The Police Service is committed to a human rights based approach in everything we do and we take our obligations to local communities and our officers and staff very seriously.
"We have undertaken a comprehensive Equality Impact Assessment, which we intend to publish in the near future, and we have developed extensive training and operational guidance for our officers in line with advice from the Northern Ireland Policing Board's Human Rights Advisor and the Police Ombudsman.
"We also have a robust governance and accountability mechanisms in place to monitor the use of spit and bite guards, including a Performance Accountability Framework, and their use will be the subject of ongoing assessment."
PFNI Chair, Liam Kelly, said: "We have argued for spit and bite guards for some considerable time as an essential and badly-needed protection for officers. Too often, officers have had to cope with the revolting, vile and dangerous practice of being spat at during incidents. Similarly, officers have been bitten by individuals as they resisted arrest or were confronting officers.
"The use of spit and bite guards fully complies with Human Rights obligations and fulfils the PSNI's responsibilities to do all it can to protect the health, safety and welfare of officers.
"This decision makes sense. It offers an additional safeguard and protection for officers as they go about their everyday policing duties.
"Spit and bite guards also gives reassurance to officers. Although the decision to make them a permanent piece of frontline officer equipment has taken an unnecessarily long time, it is heartening that we have finally reached a sensible and practical outcome."