Speeding offences soar as drivers take advantage of quieter roads
Chief constables are being urged to maintain a high-profile roads policing presence during the coronavirus pandemic following a dramatic increase in the number of drivers taking advantage of quieter roads to exceed speed limits.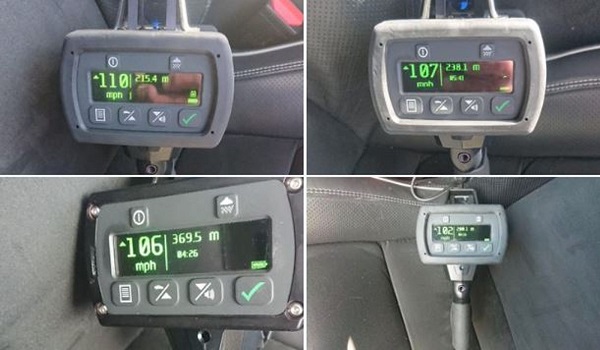 Independent road safety charity IAM RoadSmart has expressed its "shock and disappointment at the selfish and criminal speeding behaviour" being reported in recent weeks.
It said the number of motorists exceeding speed limits has doubled in some parts of the UK since the start of the coronavirus lockdown, increasing the risk not only to other motorists, but also pedestrians taking their daily exercise.
On Wednesday (April 15) Ian Hopkins, chief constable of Greater Manchester Police, said that in the first week of April, 1,145 motorists were caught speeding in the force area, with one travelling at 129mph on the M62. Another motorist was caught driving at 81mph in a 30mph zone.
Usually around one in ten drivers break the speed limit in the region, but Mr Hopkins said this had increased to four in ten since the lockdown.
"Unfortunately, [some] people using our roads are now treating them as a race track," he said. "It's not acceptable… it's putting people's lives at risk and we will be doing much more enforcement."
Mr Hopkins said the force would be "really stepping up enforcement", which would include putting speed camera vans back out on the roads.
Earlier this month, the Metropolitan Police Service revealed the average speed on some roads limited to 20mph had risen to 37mph. Superintendent Andy Cox, head of roads and transport policing, posted footage of a police chase involving a driver travelling at 151mph on the M1, while four other motorists were spotted driving at more than 100mph on the A13.
Lincolnshire Police has also announced an increase in speeding enforcement in response to an increase in the number of offences. Inspector Jason Baxter of the force's Specialist Operations, unit said: "It's only a minority who are taking advantage of the empty roads, as the majority of people have either stayed at home or driven sensibly when making essential journeys.
"But to the minority, we have a clear message: The traffic may be different, but the speed limit is not. I find it deeply frustrating that at times when it's crucial to protect our NHS and those working long and very difficult hours, there are drivers and riders flouting basic laws. What is it they don't understand? Our officers are enforcing speed limits and we will continue to do so."
Neil Greig, IAM RoadSmart's Policy and Research Director, said: "Social media is full of videos and reports from the front line showing high-speed pursuits, arrests, collisions and driver behaviour that seems frankly unbelievable in this time of national crisis.
"IAM RoadSmart believes it is critical that high-profile roads policing is maintained during the lockdown to ensure that a selfish minority do not taint the vast majority of law abiding drivers who are behaving responsibly.
"Dealing with avoidable crashes is a huge and unnecessary burden on the emergency services at the moment and while we expect overall crash numbers to fall, this makes the targeting of excessive speeding related activity even more important than ever.
"The minority who continue to drive at excessive speed are simply not listening to the warnings or taking heed of the frequent police messaging. The only way to stop them is to keep current speeding campaigns going and increase the perception that they will be caught and dealt with.
"This requires a combination of targeted enforcement, use of intelligence and continued operation of safety cameras. IAM RoadSmart is urging chief constables to do all they can to maintain resourcing for traffic units in these difficult times."