Special Constables to be given Tasers
Special Constables will be able to carry Tasers Home Secretary Priti Patel will announce today (May 17) at the annual conference of the Police Federation of England and Wales (PFEW).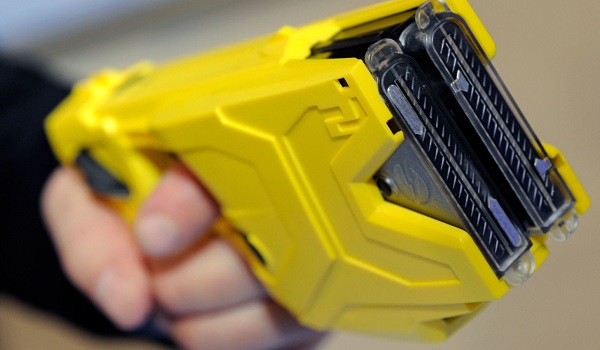 The move has the backing of the National Police Chiefs' Council (NPCC) and follows the passing of the Police, Crime, Sentencing and Courts Act, which allows Specials to join the PFEW. Despite the fact that Tasers are discharged in only ten per cent of cases where they are drawn, this means Specials will be afforded the same protections after one has been fired.
Ms Patel will tell delegates: "Like you, my values and beliefs have shaped my approach to political and public life. An understanding of and having a view on matters which govern us each day and require the ability to exercise judgement and decision making often in the most challenging of circumstances – are fundamental. And this of course applies to the rule of law and the safety of the country.
"The leaders I admire stood up for law and order. Human rights are not just for criminals, but the law-abiding majority. And that means standing squarely with the police."
The Home Secretary will also talk about the importance of the Police Covenant, which pledges to do more to recognise the service and sacrifice of our police and to deliver the urgent practical support they need.
She will say: "Everything that I learned from my conversations with you has helped to frame the changes I have led.
"I learned that the courage you show and the sacrifices you make are even greater than people realise. I have seen just how tough it can be to be married to a police officer.
"This is why the Police Covenant matters so much to me. In relation to death in service, there is no doubt that every life lost in the line of duty is a tragedy. I am resolutely determined that, in future, this sacrifice will be recognised."
However, the Home Secretary will also underline to officers that they must uphold the high standards the public rightly expects of them.
She is expected to say: "We need to work together to create a better culture and higher standards.
"Giving officers every possible support includes giving them the confidence to blow the whistle when things go wrong, so that we can root out misconduct and corruption.
"The whole country was shaken and horrified by Sarah Everard's abduction, rape, and murder by a serving officer. This horrendous case – and other revelations – have undermined confidence in the police. The public are in urgent need of reassurance.
"I am unequivocal that unacceptable behaviour must be rooted out and called out. Lessons must be learned, and every necessary change must be made, without fear or favour."
There are currently 8,901 Special Constables in forces in England and Wales. Specials will be eligible to carry Taser only if they have achieved directed patrol status (deployed in a supervised or managed environment), completed 12 months' service since achieving directed patrol status and completed 200 hours of duty since achieving directed patrol status.
Those who volunteer and are selected will be given the same Taser training and access to equipment as their paid colleagues, so they are not at a disadvantage when facing an attacker wielding a knife or a marauding terrorist, the Home Office said.
However, Oliver Feeley-Sprague, Amnesty International UK's policing expert and a member of the independent advisory group to the NPCC lead on Tasers, said: "Arming volunteer officers is a dangerous expansion of Taser use and will inevitably lead to the increased firing of Tasers and more instances of misuse, serious harm and death from Tasers.
"It's our understanding that specials will be subject to a rigours assessment prior to being selected to undergo Taser training, but arming volunteers who receive less training overall and do less hours on the job is a worrying erosion of safeguards over Taser misuse.
"Tasers are potentially lethal weapons, linked to hundreds of deaths in the USA and a growing number in Britain, and we've always said that UK police forces needed to restrict their use to highly-trained specialist officers, trained on a par with officers carrying firearms.
"We also have specific concerns about Tasers being used against vulnerable groups such as those with mental illness, children and their massive overuse on black people."