South Wales Police condemns 'totally unacceptable' violence after fatal crash sparks riots
South Wales Police has condemned the "totally unacceptable" level of violence towards officers after the death of two teenagers in a crash sparked rioting in Cardiff.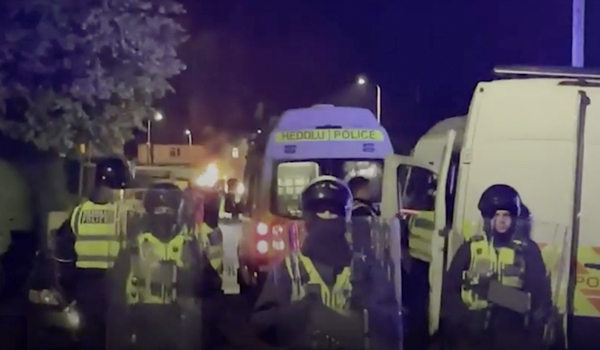 Videos posted on social media showed fireworks and other missiles being thrown at police officers and cars set on fire.
South Wales Police said it is investigating the "serious road traffic collision and scenes of violent disorder" which happened in the Ely area of Cardiff on Monday night (May 22).
The force said it had received a report of a serious road traffic collision on Snowden Road shortly after 6pm, which resulted in the deaths of two teenage boys.
The collision had already occurred when officers arrived, and they remained on scene to manage "a large-scale disorder" until the early hours of Tuesday morning, South Wales Police said.
It added: "Specially-trained public order officers were also deployed, including officers from neighbouring police forces.
"Several vehicles were set alight, property was damaged and police officers were injured during the incident."
Fifteen officers were injured and required medical attention. Eleven went to hospital, four were treated at the scene.
Assistant Chief Constable Mark Travis said: "First and foremost our thoughts are with families of the two boys who have died following the collision in Ely and with those affected by the disorder which followed.
"These are scenes we do not expect to see in our communities, particularly a close-knit community such as Ely. We received a large number of calls from residents who were understandably frightened by the actions of this large group who were intent on causing crime and disorder.
"The level of violence towards emergency services and the damage to property and vehicles was totally unacceptable.
"Our focus now is to fully investigate the circumstances of the collision and the appalling scenes that followed.
"Arrests have already been made in connection with the disorder and more will follow. We shall be maintaining an enhanced police presence throughout the week and into the weekend.
"We would like to thank the public for their support and appeal to anyone with information or video footage to come forward and provide that to us."
In a statement issued on Tuesday evening (May 23), South Wales Police said: "At 6.03pm yesterday we received a report of a serious collision on Snowden Road which tragically resulted in the deaths of two teenage boys.
"The families of the two boys are being supported by family liaison officers. Our thoughts are with both families at this terrible time. "An electric bike has been seized from the scene and inquiries are on-going to establish the exact circumstances.
"We have received CCTV footage which shows a police vehicle following a bike just prior to 6pm. This footage is being recovered as part of the investigation which will assist us in piecing together the circumstances leading up to the collision. The families are being kept up to date.
"We can confirm that following investigations carried out so far, that when then collision occurred, there were no police vehicles on Snowden Road. A police vehicle in Grand Avenue responded to the report of a collision, attended the area and the officers performed CPR.
"The investigation has involved studying CCTV and tracking data from the police vehicle. "At this stage, we do not believe that any other vehicle was involved in the collision.
"Our focus now is to fully investigate the circumstances of the collision and the appalling scenes that followed.
"We are appealing for witnesses, information, and footage from mobile phones and social media.
"We acknowledge the impact last night's disorder had on local residents who were understandably very frightened. They have our assurances that we will be doing all we can to arrest those responsible. A number of people have already been arrested and more arrests will follow."