Smart policing with mobile technology
Leicestershire Police has taken a "great step forward operationally" with new technology that will enable frontline officers to access a wide range of police systems on a mobile phone for the first time.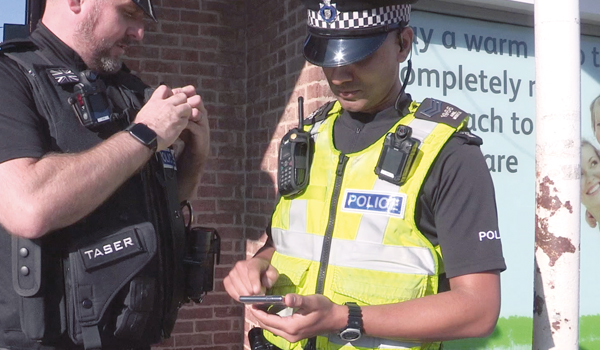 The Pronto software from Motorola Solutions is already being used by 16 other forces and the feedback has been very positive. 
It replaces paper-based forms including witness statements, fixed penalty notices and the traditional pocketbook with quicker, more accurate electronic versions. This reduction in bureaucracy, and the ability to do far more in the community without having to return to a police station and log onto a computer, means officers will be more visible and can patrol for longer. 
The secure platform is also being used by the neighbouring Northamptonshire and Lincolnshire forces, providing greater opportunities for cross-border working as officers in separate forces will for the first time be working on the same systems speeding up investigation times. 
The technology also allows officers to check fingerprints against national database records using a handheld scanner that attaches to an officer's phone, preventing the need to make an arrest and drive that person to a police station to have them checked. 
A comprehensive training programme is underway and will last until Christmas to ensure all frontline officers have access to the new technology. 
The force says those officers using it already "have been really impressed". 
Assistant Chief Constable Julia Debenham said: "This is a great step forward for us operationally. It is really important that we embrace appropriate technology that keeps officers on the streets for longer and not forced to return to police buildings to complete paperwork. 
"Every response officer, police community support officer and officer who has an operational role will be able to connect to, share and receive information and access intelligence which will allow them to work more effectively in their communities and it is so much more convenient for victims and witnesses of crime too offering a better service. 
"One big change is that the public will now see police officers using a smartphone, so it's important that they understand they are not using their own personal telephone, they are doing police work." 
Sergeant Anil Mehta said everyone on his shift had "really embraced the Pronto software as there are so many great time saving features". 
"I like the fact that you can type a statement straight into it and immediately get an electronic signature from the victim or witness without having to make a return visit," he added. 
"You can now upload photographs from the scene, which can be quickly linked to the crime report. This is really good for things like footprints that can be accurately captured before they are damaged by the weather. 
"It's already made a difference to the amount of time we've been able to stay out on patrol." 
Leicestershire's police and crime commissioner Lord Willy Bach said the technology will allow police officers to be more "visible on our streets and that is what we all want". 
And he added: "If you see officers on their mobile don't assume they are playing games or ringing home they are accessing police systems to prevent crime and make our communities safer."