Sixteen officers injured during recovery of 'lethal terrorist arsenal'
The Police Service of Northern Ireland's (PSNI) believes military grade explosives, grenades and handguns recovered during an "exceptionally challenging" operation on Thursday afternoon (September 7) would have been used in attacks to kill officers.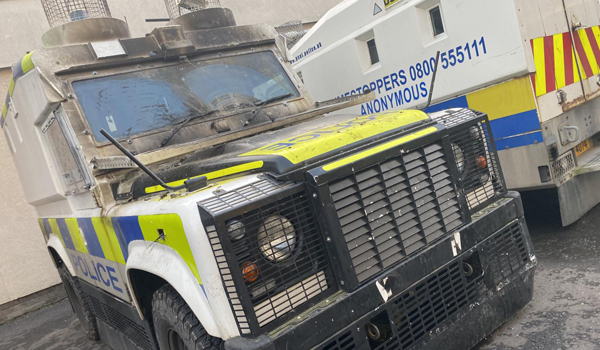 Sixteen officers were injured, four of them requiring hospital treatment, after coming under "sustained violent attack with heavy masonry and petrol bombs" during the intelligence led counter-terrorist operation in the Creggan area of Derry/Londonderry.
Assistant Chief Constable Mark McEwan said the significance of the recovery of explosives and arms "cannot be underestimated".
In an update on Thursday's operation, Mr McEwan said: "Late yesterday afternoon the Terrorism Investigation Unit conducted three searches as part of an intelligence led proactive counter terrorist operation, supported specialist officers.
"In the first search, in the area of Dove Gardens, over £2,000 cash was seized.  A further search then took place in the SouthWay area where we have recovered a handgun.
"In a third search in the Creevagh Heights area we recovered two military hand grenades, a further handgun, more than 50 rounds of ammunition, and over a kilogram of plastic explosives.
"The significance of this recovery cannot be underestimated
"These items are military grade and we believe the intention was to mount attacks in an attempt to kill police officers.
"Whilst the investigation is ongoing, and while we keep an open mind, the primary line of inquiry centres on the NIRA.
"Not only was the intention here to kill and maim, but there is a total disregard for the wider community.
"These items were being stored in a residential area in close proximity to a children's play area and any attack that would have been mounted would have taken place within our communities."
Mr McEwan said the operation has had a "considerable impact".
He said three people, two men and a woman, have been arrested under the Terrorism Act and remain in custody.
Assistant Chief Constable Bobby Singleton said officers had showed "real courage and professionalism but also amazing restraint" in the face of the violence that erupted during the operation.
Commenting on the disorder, Mr Singleton said: "Following this operation yesterday police faced some exceptionally challenging circumstances.
"Yesterday was an exceptionally warm day which combined with the time of day drew large numbers of youths to the area.
"Regrettably the situation quickly escalated with officers and their vehicles coming under sustained violent attack with heavy masonry and petrol bombs.
"Because of the material found police had to maintain a presence over an extended period for our security and public safety.
"These were extremely difficult conditions for our officers, many of whom were in full personal protective equipment and at this time we have 16 reported injuries to our officers from our Tactical Support Groups and our local policing teams. Officers who, today, will not be able to serve the community.
"The injuries sustained include burns, head injuries and potential fractures.
"We are really proud of our officers who demonstrated not only real courage and professionalism but also amazing restraint in the face of this violence.
"Authorisation had been given for deployment of our AEP systems but no rounds were fired."
"I would also like to take this opportunity to thank our partners, community leaders and families in Creggan for their support, patience and understanding. A number of families had to be evacuated from their homes to make safe these dangerous munitions."
The Police Federation for Northern Ireland (PFNI) said the recovery during police searches of plastic explosives, grenades, a handgun, pipe bombs and ammunition underlines the "continuing threat that dissident republicans continue to pose to police officers".
PFNI chair Liam Kelly said: "Our officers involved in these searches and disorder displayed great courage and resilience and deserve great credit and the thanks of this entire community.
"They recovered a lethal terrorist arsenal, the contents of which would have been used against colleagues going about their lawful duties.
"To be subjected to appalling attacks as searches continued is deplorable and must be condemned.
"Of all the items uncovered, it is the discovery of plastic explosives that is particularly the most worrying development.
"Our officers did a thoroughly professional job. They undertook these searches to protect the immediate community and wider society and should be congratulated by all political parties and community groups.
"I want to wish our injured officers well as they recover from their injuries. They did sterling work and showed great courage and resilience."
He added: "As part of any review and health and safety investigation into the policing operation we will be seeking to assess the police planning and tactics and establish if their injuries could have been averted.
"We should all remember that policing can be a dangerous occupation, but our men and women are always ready to do all they can to uphold the law and they deserve unqualified support in doing so."
Mr McEwan said: "This is clearly extremely worrying for the wider community and for officers and staff, but be assured that the success of this recovery demonstrates our dedication to pursuing these groups, the professionalism of our teams and our dogged determination to bring these people before the courts.
"I want to pay tribute to our officers and staff against the backdrop of a severe terrorist threat, attacks against them within the last year, the attempted murder of DCI Caldwell, most recently the data loss and the events of the last week, they have continued to deliver a first class policing service protecting the most vulnerable, serving communities and pursuing those who seek to cause harm.
"At every level, constable and sergeants, inspecting ranks, superintending ranks and our staff colleagues at every level across the organisation, have demonstrated their resilience professional and dedication and on behalf of the senior executive team we want to acknowledge and thank them for their incredible work."
He said the investigation was ongoing is appealing to anyone with any information to come forward.