Simon Byrne 'exonerated' of all allegations
The former chief constable of Cheshire Constabulary has been cleared of gross misconduct leading to calls for the police and crime commissioner (PCC) David Keane to resign.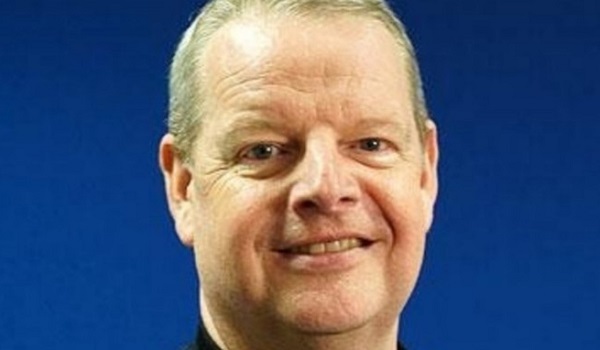 An independent disciplinary panel ruled that "no misconduct of any kind" was found in the evidence provided against Simon Byrne. 
Mr Byrne faced over 72 allegations and was accused of "having displayed a short temper and a lack of tolerance; engaging in angry outbursts and aggressive attacks upon his subordinates; and creating an intimidating, hostile and humiliating environment which caused distress and anxiety to staff in the ACPO office". 
A North Yorkshire Police investigation concluded he had a case to answer for misconduct. 
However, the panel recommended that chief constables in a case such as this should receive formal mentoring, and this might prevent it reaching the investigation and misconduct hearing stages in future. 
It suggested that the National Police Chiefs' Council (NPCC) consider a formal and perhaps mandatory system, as it is not the responsibility of a PCC to offer such support. 
Mr Keane said that he agreed with this finding, and that he "will encourage the NPCC to take it forward".  
Chief Constable Sara Thornton, chair of the NPCC said it "welcomes the suggestion" and will work with the College of Policing and the Chief Police Officers Staff Association on the proposal. 
The panel made "some limited criticism" of the way Mr Byrne behaved towards his staff but decided that it did not "approach a level which would breach the standards of professional behaviour, let alone constitute misconduct". 
The proceedings against Mr Byrne have cost almost £350,000. 
Within an hour of the panel's findings being revealed, Warrington Conservatives called on Mr Keane to step down.  
"David Keane's decision to suspend a chief constable on allegations which were dismissed at every level, calls into question his professional judgment. The inquiry has cost Cheshire tax payers £millions. David Keane should consider his position," they posted on Twitter. 
After the findings were made public Mr Keane said that he had "no realistic alternative" but to put the allegations before the panel, and that any other course of action "would have been against my core values of fairness and openness". 
He responded to criticism over the costs of the action taken by saying: "I don't think there is anyone more frustrated than me with that figure. 
"But that figure is gauged by going through a statutory process that is laid down by Government. 
"I cannot avoid that process when I have complaints made and investigated."  
Meanwhile, Mr Byrne said in a statement he has "lost" his vocation, and "in their excoriating report the independent panel have delivered a withering assessment of this case that Mr Keane, the PCC, brought against me". 
The panel also said that "it is tempting to conclude" that any chief constable's conduct, "if subjected to scrutiny of this intensity", would manage to escape similar criticisms. 
In final conclusion, it said: "We do not believe there was any intent on Mr Byrne's part to cause distress among those with whom he worked. 
"He was focused on improving the constabulary's performance in every aspect he encountered; indeed, it is likely that he was employed by the previous police and crime commissioner for precisely that purpose."  
The panel's verdict was read in public at Warrington Town Hall, where Mr Byrne previously appeared before it in July this year. 
Just after 3pm on Tuesday (December 11), Mr Keane confirmed that all allegations against Mr Byrne had been dismissed. 
Mr Keane told the hearing that the matters were first brought to his attention in October 2016. 
They included a complaint against Mr Byrne, the details of which required a statement of nine pages. Added to this, he also received a report, which documented "a culture of bullying". 
Mr Byrne was suspended in August last year, when Mr Keane determined there was "a case to answer for gross misconduct with regards to authority, respect and courtesy and discreditable conduct".  
The case was referred to an independent panel hearing, and Deputy Chief Constable Janette McCormick became the acting chief constable while Mr Byrne was under suspension pending the conclusion of the hearing proceedings. 
Mr Byrne's contract as chief constable expired in June this year. 
Mr Keane said: "I have today published the independent panel's report in relation to the misconduct proceedings regarding former Chief Constable Byrne.  
"The independent panel has stated in its report that the allegations against Mr Byrne are not proved and are therefore dismissed.  
"When faced with such allegations against the county's chief constable, I believed I had no realistic alternative but to place the matter before an independent panel for determination of the facts.  
"Any other course would have been against my core values of fairness and openness, and I will not oversee a police service where such allegations aren't taken seriously."  
Mr Byrne said: "The whole case and allegations against me have been rejected and I suspect that members of the public will be astonished that, for example, one of the allegations involved me "misapplying" my time as chief constable in responding to a 999 call from a victim of domestic violence, assisting in the search for the offender and transporting him to a custody centre. 
"This whole affair has been an ordeal for all parties involved that has gone on too long and wasted precious public money scrutinising my conduct when leading Cheshire Constabulary in what Mr Keane himself has recently described as a high performing police force." 
"I am very pleased to have been totally exonerated of any wrongdoing, despite the PCC trying to throw the book at me. 
"In some ways, it still feels like upside down justice as I have lost my vocation after 35 years of public service. Nonetheless, I would like to take this opportunity to thank the fantastic men and women I have had the privilege to work alongside in four police forces over nearly four decades of my life. 
"I would also like to thank my legal team for supporting me and helping me thought his ordeal and my staff association, the Chief Police Officers Staff Association (CPOSA), who have funded my defence.  
"Finally, it has been a privilege to serve the residents of Cheshire as their chief, many of whom have expressed their support and, of course, I would also like to acknowledge the support I have had, at such a difficult time, from my friends, colleagues and family." 
Chief Constable Sara Thornton said: "A misconduct hearing found no evidence of misconduct by former Chief Constable Simon Byrne and that the lengthy process could and should have been avoided.  
"The panel recommended the NPCC investigate whether a system of formal guidance and mentoring for chief constables should be developed to prevent such a situation in the future. We welcome the suggestion and will work with the College of Policing and the Chief Police Officers Staff Association to do so."