Significant fall in crime since first lockdown
A new report suggests that crime fell significantly in Scotland since the start of the UK's first national lockdown on March 23, 2020.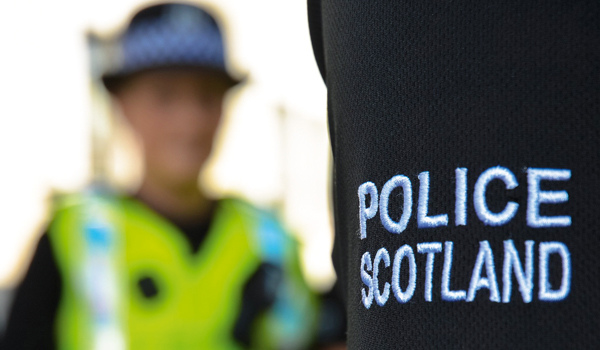 The results of a Scottish Victimisation Telephone Survey 2020 show that approximately 61 per cent (269,000) crimes occurred before the start of the lockdown, compared with 39 per cent (176,000) after – a drop of around a 35 per cent.
The survey by the Scottish government questioned 2,700 people between September and October 2020 about their experiences and perceptions of crime, safety and policing during the previous year.
There were an estimated 445,000 incidents of crime experienced by adults in Scotland in the year to September 2020, including incidents not reported to the police.
Just nine per cent of adults experienced crime during this period, however, around three per cent of those interviewed said they had suffered multiple victimisation, experiencing two or more incidents of any crime
These repeat victims accounted for 61 per cent of all crime recorded in the survey.
The survey found most adults (91 per cent) were not victims of any crime between September 2019 and September 2020. Estimates suggest that eight per cent of adults were victims of a property crime, and two per cent experienced a violent crime. The likelihood of experiencing crime was higher for those living in urban areas, with those aged 60 and over least likely to be victims.
According to the survey, 67 per cent of all crime was property-related, with the remaining 33 per cent being violent crime.
An estimated 41 per cent of crimes reported in the survey came to the attention of the police in some way.
The survey also asked for people's perceptions of policing since the coronavirus outbreak. Sixty per cent believed the police in their local area were doing an 'excellent' or 'good' job, and the majority (74 per cent) were satisfied with the way the police were responding to the virus outbreak.
Just over half of people (54 per cent) felt that crime in their local area had stayed about the same since the start of the first national lockdown.
However, 91 per cent of adults said the Covid-19 pandemic had not changed how worried they felt about being a victim of crime, although previous victims said they felt more worried since the virus outbreak (19 per cent) compared with just five per cent of non-victims.
Around 75 per cent of adults said they felt safe when walking alone in their local area after dark with most people (87 per cent) reporting no change in how safe they felt.
The results of the survey follow another report published earlier this week into the extent of hate crimes committed in Scotland.
It highlighted that almost two-thirds of all race-related hate offences had a visible minority ethnic (non-white) victim, a group that makes up around four per cent of the population.
And almost one in five recorded hate crimes involved a victim who was a police officer.
The detailed study looking at the characteristics of victims and perpetrators of reported hate crime incidents in 2018/19 found that:
Around a third of crimes involved a victim who experienced the incident at work;
Almost two-thirds of hate crime victims and three-quarters of perpetrators were male;
In the majority (94 per cent) of sexual-orientation aggravated hate crimes the perpetrator showed prejudice towards the gay and lesbian community;
In around two-fifths of religion aggravated hate crimes the perpetrator showed prejudice towards the Catholic community;
In a quarter of such crimes prejudice was shown towards the Muslim community and in one in ten cases it was towards the Protestant community;
There were 1,080 recorded hate crimes in 2018/19 with a police officer victim; and
Hate crimes with an aggravation for transgender identity have doubled over the past six years, from 48 to 96
Scottish Justice Secretary Humza Yousaf said: "This report provides more detail of how hate crime affects our communities and is a timely reminder that crime motivated by hate is an all too common occurrence, with real-life impacts on victims and those around them. Just from those that are reported, we know that an average 18 hate crimes are committed every day in Scotland.
"The fact that visible minority ethnic groups, which represent four per cent of the population, experience two-thirds of all race-related hate crimes shows we have much more to do to overcome prejudice, while the findings also highlight the need for more to be done to ensure workplaces are an environment free from hatred and from fear.
"The report also highlights the risk that police face in the line of duty on a daily basis where almost one in five recorded hate crimes involved a victim that was a police officer.
Police Scotland Assistant Chief Constable Gary Ritchie said: "Hate crime is abhorrent and insidious and will not be tolerated in Scotland. Targeting anyone because of a disability, their race, religion, sexuality or transgender identity – or a perception of these characteristics – is despicable.
"This report shows the extent of hate crime which has been reported to Police Scotland in 2018/19, but we know this is an under-reported offence. People who are victims have often been targeted on numerous occasions before they report to our officers and can find it difficult to talk about it.
"We encourage anyone who has been a victim – or who has witnessed a hate crime – to come forward and report it. We take every report seriously and will carry out a robust investigation on every occasion."