Shouting through a megaphone at officer 'not a crime'
A man who shouted at officers through a megaphone from just one foot away has been cleared of assaulting emergency service workers.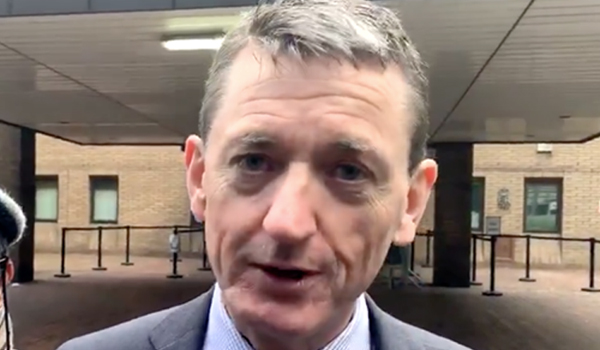 James Farrar was acquitted at Southwark Crown Court when the judge dismissed the jury after ruling that there was no evidence a crime had been committed.
The court heard that Sergeant James Lewis and Police Constable Ann Spinks were left with ringing in their ears "like an alarm going off" after a megaphone was purposely aimed at them during a protest in Parliament Square in March 2019.
Mr Farrar, the chairman of the United Private Drivers' branch of the Independent Workers of Great Britain (IWGB) – a union mainly representing low paid migrants and those in the so-called 'gig economy', such as bicycle couriers and Uber drivers – had been warned about using the megaphone at ear level, PC Spinks claimed.
She told the court he continued shouting through the megaphone from about a foot away from her head.
The Metropolitan Police Service said Mr Farrar attended an interview under caution on April 4. A file of evidence was then presented to the Crown Prosecution Service (CPS) whose lawyers advised their legal test was met for him to be charged with two counts of assault on an emergency worker.
Mr Farrar was charged via postal requisition on July 25.
On Thursday (January 16), Judge Philip Bartle instructed the jury to find Mr Farrar not guilty on two counts of assault because the offence requires 'the unlawful application of force'.
In a statement before the trial, the IWGB said: "We are desperately worried about the chilling effect this prosecution will have on grassroots trade union organising and activity in this country. If the [Crown Prosecution Service] successfully convicts James then no trade union activist or protester will be safe from police prosecution for something as minor as using a megaphone, a drum, a whistle or even for shouting too loudly. In short, the right to assembly, free speech and public protest is gravely threatened by this police overreach."
Mr Farrar received the support of Labour Shadow Chancellor John McDonnell, who asked his social media followers to donate to a fund to fight the proceedings.
Mr Farrar had organised the protest against Transport for London's plans to exempt hackney carriage drivers from the congestion charge but not private hire vehicles.
Speaking outside the court after the not guilty verdict, Mr Farrar claimed the prosecution was brought to discredit the union and ensure "precarious workers would not have a voice".